Current Criteria
›› Coverage Geographical : Morocco
Showing results 1 – 3 of 3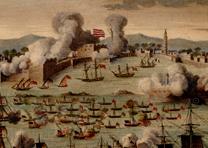 Essay
In October 1784, an American merchant vessel, the Betsey, was on a trade run from her home port of Boston to Tenerife in the Canary Islands when she was approached by an un-flagged vessel. Suddenly, "sabers grasped between their...
Glossary Term – Event
Roosevelt and Churchill met in Casablanca, Morocco, and approved the policy of unconditional surrender. The trip made Roosevelt the first sitting president to both travel to Africa and leave the country during war.