Current Criteria
›› Coverage People : George Ripley
Showing results 1 – 2 of 2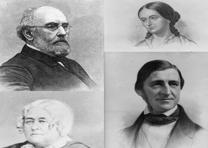 Essay
Those Americans who have heard of American Transcendentalism...
Glossary Term – Place
Brook Farm was a utopian community formed in 1841 and in operation until 1847. It was established by former Unitarian minister George Ripley as a communal community in which intellectuals, farmers, and craftspersons and their families lived and worked. The community placed major emphasis on education and intellectual freedom, and attracted interest and support from many famous writers and thinkers including Ralph Waldo Emerson, Nathaniel Hawthorne, and Horace Greeley. The utopian experiment at Brook Farm ultimately failed, however, after...