Current Criteria
›› Coverage People : Nathanael Greene
Showing results 1 – 3 of 3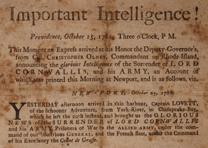 Glossary Term – Event
The Battle of Camden resulted in a major victory for the British. Consequently, Gen. Nathanael Greene succeeded Horatio Gates as commander of the Southern Army.
Glossary Term – Person
Nathanael Greene (1742–1786) was a Continental Army general during the American Revolutionary War. He rose swiftly through the ranks of the military to become one of Washington's most trusted officers. Greene first served as commander of the Rhode Island forces before being promoted to major general in 1776. In 1778 he became commander in chief of the Southern Army. Greene took part in battles at Trenton, Brandywine, and Germantown. During the later part of the war his strategizing led to victory at Cowpens and to Cornwallis's retreat into...