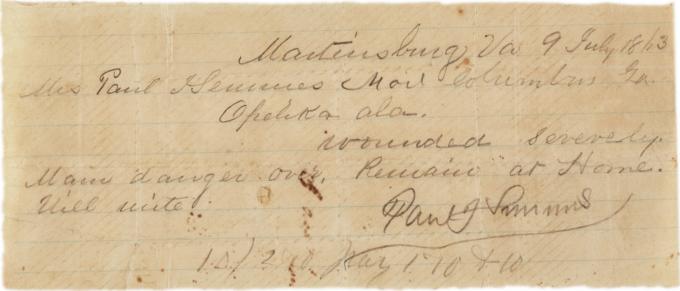 Letters and documents recount the secession crisis and the American Civil War through general orders, orderly books, recruitment broadsides, maps, photographs, newspapers, and the journals, official dispatches, and personal letters of military commanders, politicians, soldiers, and civilians. This archive includes letters and diaries written by statesmen, soldiers, and civilians that provide unique perspectives on virtually every aspect of the Civil War including battles, life on the home front, Lee's surrender, Lincoln's assassination, and prisoner-of-war experiences. Thousands of soldiers' letters and diaries, most of them unpublished, capture the experience of the common soldier and his family in great detail.
Selected searches:
Cartoons, prints, sketches, and engravings

of battles, scenic views, and camp life includes published engravings and hand-drawn sketches by soldiers.

Unique

objects

including a

slave child's doll

,

election

ephemera, and

mourning ribbons

The impact of volunteer nurses in the Civil War is evident in the letters written by patients to

Sarah Ogden

.

Broadsides, including recruitment posters
Period photographs capturing both battlefields and personal portraits

A collection of rare

newspapers printed on wallpaper
Documents relating to the Emancipation Proclamation

Soldier's letters, photographs, official documents, maps, and sketches from the

Battle of Gettysburg
Educational Resources:
Educational materials including essays, timelines, multimedia, interactives, featured primary sources, and other teaching resources can be found in the History by Era section of our website. Our Featured Primary Sources include introductions, transcriptions, and images of documents, available to all educators, with additional content of questions for discussion and printable hand-outs for Affiliate School members.