Confederate reaction to "Beast" Butler's orders, 1862
by P. G. T. Beauregard
View this item in the Collection.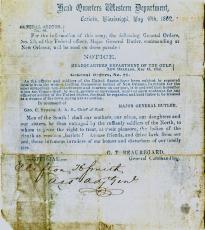 In April 1862 Union forces led by Captain David G. Farragut steamed past the weak Confederate defenses and captured New Orleans. During the occupation of the city Union troops were repeatedly insulted by New Orleans women and one woman went so far as to empty a chamber pot on an officer's head from her window. The women hoped their actions would prompt a reaction from Union troops that would incite paroled Confederates to act. General Benjamin F. Butler's men showed remarkable restraint against the insults, but Butler realized that it was only a matter of time before one of them, pressed too far, would react. As military governor of the city, Butler issued General Orders 28 on May 15, 1862, which declared that any woman behaving disrespectfully would be "treated as a woman of the town plying her avocation." In other words, they were to be regarded as prostitutes and therefore were subject to arrest. While reaction in the North was mixed, the South saw "Beast" Butler's ruling as an affront to womanhood, dishonorable and offensive.
In response, on May 19, Confederate General P. G. T. Beauregard issued his own General Orders 44, shown here. Beauregard's orders reprinted Butler's orders and stated that they were to be read aloud to Confederate troops in order to stir their emotions: "Arouse friends, and drive back from our soil, those infamous invaders of our homes and disturbers of our family ties." Butler's orders backfired as they only served as a tool for increasing Southern anger against the Northern occupiers.
A full transcript is available.
Excerpt
Men of the South! shall our mothers, our wives, our daughters and our sisters, be thus outraged by the ruffianly soldiers of the North, to whom is given the right to treat, at their pleasure, the ladies of the South as common harlots? Arouse friends, and drive back from our soil, those infamous invaders of our homes and disturbers of our family ties.
G. T. BEAUREGARD.
General Commanding.
Questions for Discussion
Full content is available to our community and Affiliate School members only. To view it, please apply for your school to be an Affiliate School, sign up to be a community member, or log in.
Metadata
Make Gilder Lehrman your Home for History
---
Already have an account?
Please click here to login and access this page.
How to subscribe
Click here to get a free subscription if you are a K-12 educator or student, and here for more information on the Affiliate School Program, which provides even more benefits.
Otherwise, click here for information on a paid subscription for those who are not K-12 educators or students.
Make Gilder Lehrman your Home for History
---
Become an Affiliate School to have free access to the Gilder Lehrman site and all its features.
Click here to start your Affiliate School application today! You will have free access while your application is being processed.
Individual K-12 educators and students can also get a free subscription to the site by making a site account with a school-affiliated email address. Click here to do so now!
Make Gilder Lehrman your Home for History
---
Why Gilder Lehrman?
Your subscription grants you access to archives of rare historical documents, lectures by top historians, and a wealth of original historical material, while also helping to support history education in schools nationwide. Click here to see the kinds of historical resources to which you'll have access and here to read more about the Institute's educational programs.
Individual subscription: $25
Click here to sign up for an individual subscription to the Gilder Lehrman site.
K-12 School subscription: $195
Click here to sign up for an institutional subscription, which allows site access to all faculty and students in a single school, or all visitors to a library branch.
Make Gilder Lehrman your Home for History
---
Upgrade your Account
We're sorry, but it looks as though you do not have access to the full Gilder Lehrman site.
All K-12 educators receive free subscriptions to the Gilder Lehrman site, and our Affiliate School members gain even more benefits!