Horace Greeley: "Go West," 1871
by Horace Greeley
View this item in the Collection.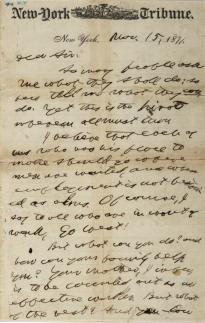 Horace Greeley, editor of the New York Tribune, wrote this letter in 1871 to R. L. Sanderson, a young correspondent who had requested career advice. Greeley, a great supporter of westward expansion, shared the national conviction that it was the manifest destiny of America to conquer and civilize the land between the Atlantic and the Pacific Oceans.
Greeley wrote, "So many people ask me what they shall do; so few tell me what they can do. Yet this is the pivot wherein all must turn. I believe that each of us who has his place to make should go where men are wanted, and where employment is not bestowed as alms. Of course, I say to all who are in want of work, Go West!" He tempered his advice with specific recommendations regarding preparations for the journey asking, "Can you chop? Can you plow? Can you mow?" Greeley concluded, "Having mastered these, gather up your family, and Go West!"
A full transcript is available.
Questions for Discussion
Full content is available to our community and Affiliate School members only. To view it, please apply for your school to be an Affiliate School, sign up to be a community member, or log in.
Metadata
Make Gilder Lehrman your Home for History
---
Already have an account?
Please click here to login and access this page.
How to subscribe
Click here to get a free subscription if you are a K-12 educator or student, and here for more information on the Affiliate School Program, which provides even more benefits.
Otherwise, click here for information on a paid subscription for those who are not K-12 educators or students.
Make Gilder Lehrman your Home for History
---
Become an Affiliate School to have free access to the Gilder Lehrman site and all its features.
Click here to start your Affiliate School application today! You will have free access while your application is being processed.
Individual K-12 educators and students can also get a free subscription to the site by making a site account with a school-affiliated email address. Click here to do so now!
Make Gilder Lehrman your Home for History
---
Why Gilder Lehrman?
Your subscription grants you access to archives of rare historical documents, lectures by top historians, and a wealth of original historical material, while also helping to support history education in schools nationwide. Click here to see the kinds of historical resources to which you'll have access and here to read more about the Institute's educational programs.
Individual subscription: $25
Click here to sign up for an individual subscription to the Gilder Lehrman site.
K-12 School subscription: $195
Click here to sign up for an institutional subscription, which allows site access to all faculty and students in a single school, or all visitors to a library branch.
Make Gilder Lehrman your Home for History
---
Upgrade your Account
We're sorry, but it looks as though you do not have access to the full Gilder Lehrman site.
All K-12 educators receive free subscriptions to the Gilder Lehrman site, and our Affiliate School members gain even more benefits!