The Gilder Lehrman M.A. in American History from Adams State University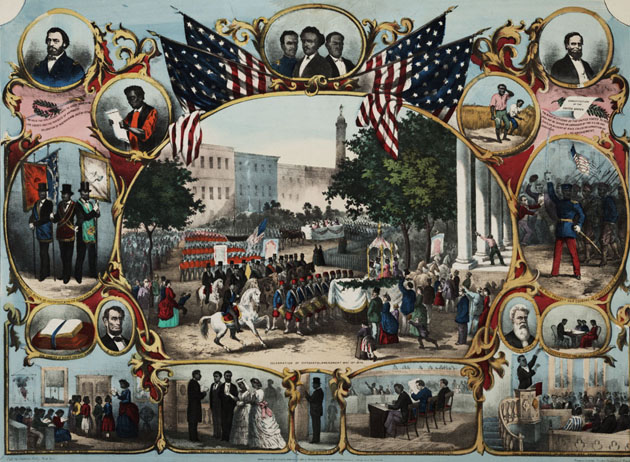 Are you ready to take the next step in your education? The Gilder Lehrman M.A. in American History from Adams State University offers the opportunity to pursue your master's degree through our online graduate courses.
These innovative courses blend a traditional liberal arts environment with features that can only be found online, combining first-rate scholars and small class sizes with virtual field trips, interactive discussions, and the extensive use of digital history tools.
In addition to providing a top-notch education, Gilder Lehrman and Adams State are committed to offering a program that fits your schedule as well as your budget: participants can take as many years as they need to complete the program and, at a cost of $600 per course, enrollees can earn an M.A. in American History for under $6,000! For more information about current and forthcoming courses, visit gilderlehrman.org/onlinecourses.
Complete Your Master's in Three Steps
Enroll in the M.A. program through a free application with Adams State when you sign up for your first online course.
Complete nine Gilder Lehrman online courses or eight online courses plus one Gilder Lehrman Teacher Seminar. Online graduate courses will be offered each spring, summer, and fall, and Teacher Seminars run weekly from late June through August.
Write a thesis and defend it on the Adams State campus in southwest Colorado.
Scholarships for Affiliate School Teachers
One scholarship per course will be offered each year to a Gilder Lehrman Affiliate School teacher. Find out more about scholarship opportunities at Online Course FAQs and learn more about the Gilder Lehrman Affiliate School program here.
Learn More
How do I enroll?
Is there an application fee? What are the requirements for enrolling?
What if I want to take an online course, but not pursue the M.A.?
Is there a set curriculum?
I have previously taken a Gilder Lehrman Teacher Seminar; can I apply that work toward the M.A. in American History?
May I transfer credits from another university?
I have additional questions not answered here.
---
About Adams State University
Founded in 1921, Adams State is a university offering undergraduate majors, minors, and emphases. ASU also offers master's degree programs and a doctoral program—with most of these graduate programs offered online. In recent years, Adams State has entered a new era of growth including a transformation of its campus in Alamosa, Colorado, with $65 million worth of improvements nearly complete.