To see original documents, photographs, and other materials from the Gilder Lehrman Collection, please visit the museums listed below.
Gilder Lehrman Exhibitions
Reflections of a Nation: American Writings from the Gilder Lehrman Collection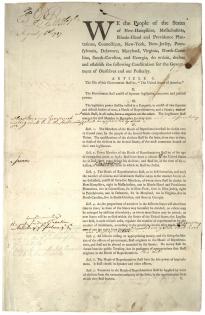 On display from September 9, 2014, through January 11, 2015, this exhibition features documents from five key moments in American history: the first draft and final version of the US Constitution as well as personal letters illustrating the struggles and sacrifices people encountered during the Revolutionary War, Civil War, Jim Crow era, and on the eve of World War II.
The Morgan Library & Museum, 225 Madison Avenue at 36th Street, New York, New York
---
1864: "Blood & Carnage unequalled perhaps in history"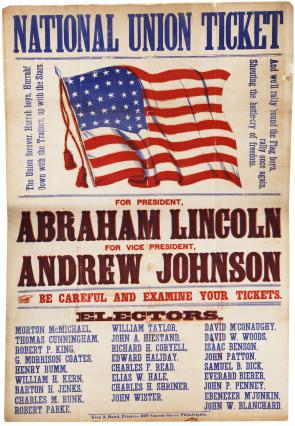 This yearlong exhibition chronicles the most destructive year of the Civil War. In early 1864, Union strategy changed from the pursuit of specific targets to total warfare and the complete destruction of the Confederate army, economy, and morale. In March 1864, Lieutenant General Ulysses S. Grant was appointed commander of all Union armies and came east to personally lead the Union forces in Virginia. His objective was to crush Robert E. Lee's army, and between May 5 and June 24, Union and Confederate troops clashed almost daily in relentless, brutal fighting. Farther south, in Georgia, Union General William Tecumseh Sherman sought to destroy supplies and civilian morale. While Grant and Sherman were pressing on the Confederates, Abraham Lincoln was reelected president in November in the first wartime election in US history—sending a clear signal that the Union would fight to the end.
---
On View Nationally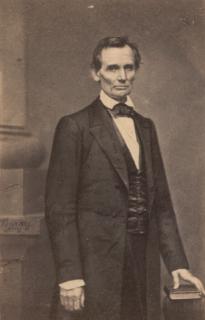 Visualizing 19th-Century New York, September 19, 2014–January 11, 2015, examines New York City—a spectacle for resident and visitor alike—through prints and photographs produced by cultural entrepreneurs who created a vast commercial market for their images of the booming metropolis. It includes images of Abraham Lincoln from the Gilder Lehrman Collection.
---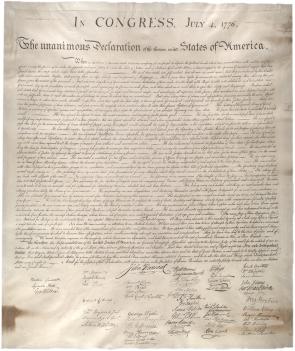 The Books and Manuscripts Gallery features documents from the Gilder Lehrman Collection.
The Book and Manuscript Gallery focuses on George Washington's insatiable hunger for knowledge, his keen curiosity, and his lifelong desire to better understand the world around him, as shown through manuscripts, maps, prints, and books. These rare and important objects from two premier collections—that of Mount Vernon and the Gilder Lehrman Institute of American History—address broader topics such as our country's founding documents, slavery, and Washington's Last Will and Testament. It is also enriched by loans from the Boston Athenaeum, the keeper of the largest collection of original books owned by Washington.
---
Treasures of the Civil War: Legendary Leaders Who Shaped a War and a Nation, June 2013–June 2014, featuring thirty-seven items from the Gilder Lehrman Collection, including letters written by Abraham Lincoln, Jefferson Davis, Ulysses S. Grant, and Robert E. Lee.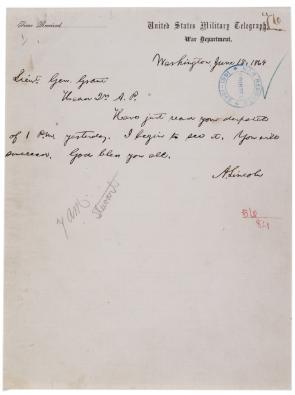 During the Civil War, the fate of the nation rested with a few political, military and cultural leaders who had one thing in common: They achieved national fame by helping to chart a future course through a nation's greatest crisis. As part of 150th anniversary commemorations, the Gettysburg National Military Park Visitors Center and Museum offers the new exhibit Treasures of the Civil War: Legendary Leaders Who Shaped a War and a Nation. Most of the nearly one hundred artifacts, from outstanding Civil War collections throughout the United States, are being exhibited at Gettysburg for the first time, offering a unique and rare glimpse into the personal and professional lives of thirteen individuals who helped shape a nation: Abraham Lincoln, Jefferson Davis, Robert E. Lee, Ulysses Grant, George G. Meade, John Reynolds, George Pickett, Alexander Webb, William Tecumseh Sherman, George Custer, John Mosby, Frederick Douglass, and Clara Barton.
The Gettysburg Museum of the American Civil War offers visitors a twenty-first-century museum experience that tells the story of the Battle of Gettysburg and its significance to our nation's history within the context of the American Civil War. The Gettysburg Museum galleries showcase a collection of artifacts and archival items that provides visitors perspectives from President Abraham Lincoln and Confederate President Jefferson Davis, Generals George Gordon Meade and Robert E. Lee, soldiers, war correspondents, and civilians.
---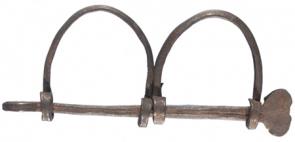 New York Rising, ongoing, includes slave shackles meant for a young child and several letters from the Gilder Lehrman Collection.
Explore the story of New York and America in the newly designed Robert H. and Clarice Smith New York Gallery of American History. Covering the period from the American Revolution through the New-York Historical Society's 1804 founding, a contemporary interpretation of a nineteenth-century salon-style display uses some of New-York Historical's most treasured objects and cutting-edge technology to convey the historical narrative.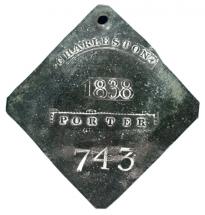 Liberty/Liberté by artist Fred Wilson, ongoing, includes slave identification tag and shackles from the Gilder Lehrman Collection.
Slave shackles and identification tags from the Gilder Lehrman Collection are displayed in artist Fred Wilson's installation entitled Liberty/Liberté, which offers the viewer access to the multiple layers of interpretation of the history and historical figures of the Age of Revolution.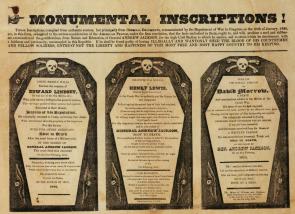 An anti-Jackson broadside from the Gilder Lehrman Collection is part of the Constitution Center's core exhibition, The Story of We the People. The exhibition tells the story of the Constitution, its history, and its contemporary relevance through more than 100 multimedia exhibits, film, photographs, text, sculpture, and artifacts. It also features a powerful, award-winning theatrical performance, "Freedom Rising," and Signers' Hall. The exhibit experience will take you through important events in our nation's history and through unique, interactive exhibits, showing you how the United States Constitution is as important today as it was 224 years ago.