The South in American History
Online Courses
The South in American History
The South has played a central role in American history from the first permanent English colony through the United States of today. This course will trace that role across four centuries, using video tours to interpret key places in the story.
The class will explore the creation of the largest and most powerful slave society of the modern world and the attempt to create a new independent nation to sustain that society. The course will chart the ending of slavery for four million people, the social transformations that followed in Reconstruction, and the upheavals of the first New South. For the twentieth century, the class will document the world of segregation, the overthrow of that system, and the emergence of the complicated and sometimes conflicted South we know today.
The course will include a broad range of historical actors as active participants in the story, incorporating economics and politics, religion and culture. Innovative digital tools will help teachers see and teach this history in new ways.
Schedule
The course will meet every other week, January 13–March 31, 2015, with a two-week midterm break, February 16–27.
Live sessions will be offered each meeting week on Tuesdays and Thursdays, 7:00–9:00 p.m. Eastern Time.
Every session will be recorded and available for review on-demand.
Registration
Registration begins November 15, 2014, right on this page.
Full course details, including costs, notes on assignments, and information on special events, will be available once registration opens.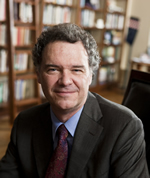 Lead Scholar
Edward L. Ayers
Edward L. Ayers is President of the University of Richmond. The author/editor of ten books (including the Bancroft Prize–winning In the Presence of Mine Enemies), Ayers also directed the online history project "The Valley of the Shadow: Two Communities in the American Civil War." He serves as a cohost of BackStory, a nationally syndicated radio show that connects American history to the present day. In 2003, he was named Professor of the Year by the Carnegie Foundation and the Council for Advancement and Support of Education. Last year, he was awarded the National Humanities Medal at the White House by President Barack Obama in recognition of "his commitment to making our history as widely available and accessible as possible."