Understanding Lincoln: Graduate Course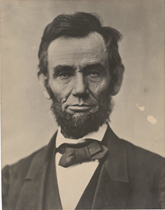 PLEASE NOTE: The registration and withdrawal period for this course has ended. We encourage you to join our mailing list to learn of new online course opportunities in the future.
Understanding Lincoln is a new type of online graduate course taught by noted Lincoln scholar Matthew Pinsker and offered jointly by the Gilder Lehrman Institute and Dickinson College. The course provides seminar-style interaction and graduate course credit at low cost for a limited number of eligible participants.
The course includes live discussion sessions, an active blog for participants, and expert guidance on using digital tools for teaching Lincoln within the guidelines of the Common Core State Standards. The course begins shortly after the 150th anniversary of the Battle of Gettysburg and concludes with selected final presentations streamed online on November 19, 2013, the sesquicentennial of the Gettysburg Address.
Participants whose final projects have been selected for presentation will be invited to attend the November 19 anniversary events at no cost, including free travel to Gettysburg, lodging, and meals. The course will also offer a free, open component for those who want to pursue a non-credit certificate of completion.
CLICK HERE FOR MORE ABOUT COURSE CONTENT, ASSIGNMENTS, AND SCHEDULE.
---
Course includes:
Focus on Abraham Lincoln's key writings and legacies
Live video-streaming, seminar-style interactions with Professor Pinsker
Videotaped guest lectures from top historians such as David Blight, Eric Foner, and James McPherson
Unique virtual field trips to Civil War locations such as the Gettysburg battlefield
Interactive pedagogy discussions with leading experts from Gilder Lehrman
Guidance on reading Abraham Lincoln with standards such as the Common Core
Wide-ranging introduction to various multimedia tools useful for teaching and research
Active blog for collaboration with fellow participants
Very special opportunity to attend the Gettysburg Address 150th anniversary events at no cost—including free travel—for participants selected on the basis of their final projects

Course completion requirements
To receive 3.0 hours of graduate-level credit from Dickinson College, participants must:
have an undergraduate degree;
complete all course assignments, including blog and discussion activity, short writing assignments, and a final multimedia project (due in October); and
receive an overall course grade of C- or higher
Cost: $450

Why Advance Yourself
Earn 3.0 graduate credits at a low cost and enhance your pedagogy and history content knowledge, and work toward your salary advancement goals.
Develop deep content knowledge in the context of virtual site trips to historic locations. Our online courses are academically rigorous and intellectually rich.
Learn how to bring history alive for your students with demonstrated classroom techniques and strategies.
Learn from the nation's leading scholars.
Work at a pace that is convenient for you—in your own home. Online readings and course components are available 24/7.
Have the opportunity to attend the 150th anniversary of the Gettysburg Address on November 19, 2013. Three selected participants will present their final course projects on-site in Gettysburg. Travel to Gettysburg, meals, and lodging will be provided.

Registration Deadline — Limited Enrollment
The registration period will end no later than 11:59 p.m. Eastern Time on Friday, July 19, 2013. But please note that space is limited and registration will close on a first-come, first-served basis.
---