Gilder Lehrman Collection Adds Archive Chronicling Lives of Tuskegee Airmen
New York, NY (May 18, 2016): The Gilder Lehrman Institute of American History is excited to announce that it has acquired an archive of nearly 300 documents relating to three brothers who were Tuskegee Airmen: Leroi S. Williams, Eugene W. Williams, and James T. Williams.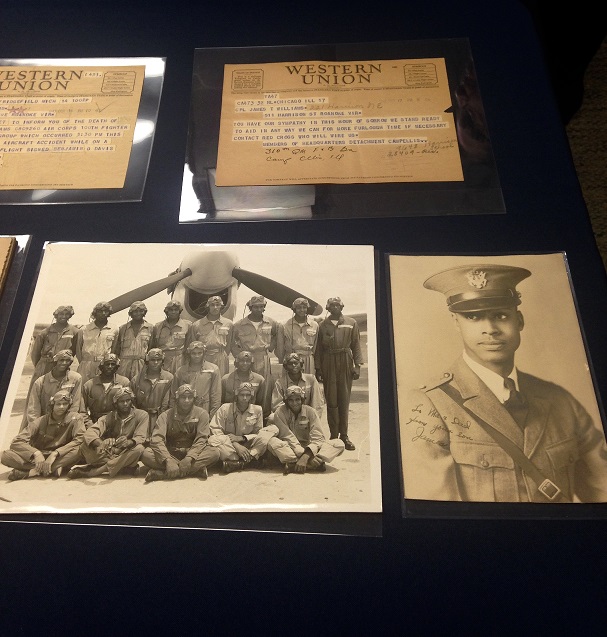 The three brothers served from 1943 to 1949. Lieutenants Leroi and Eugene Williams served as pilots, and Second Lieutenant James Williams organized entertainment for the base. Both pilots died in aircraft accidents during their service, Leroi in 1943 during training in the United States, and Eugene in 1949 while stationed in Germany.
The archive provides a record of the lives and feats of the three brothers during their service through both personal and official documents, which include photographs and letters, pilots' log books, Tuskegee and Army Air Force pamphlets and manuals, and base communications and publications.
"It is an incredibly moving archive," says Sandra Trenholm, Director and Curator of the Gilder Lehrman Collection. "In addition to the letters from and photographs of the airmen, it has an extensive set of condolence telegrams. These offer unique insight into how family and friends coped with the loss of servicemen."
Some highlights include letters from Leroi Williams to his family in which he details his training exploits; a rare copy of the Tuskegee Air Force newsletter, "The Hawks Cry"; and numerous letters of condolence from army officials and friends. Together with materials relating to a sister, Geraldine Williams, these documents shed light on the experience of an African American family during World War II and the postwar period, both in service and at home.
About the Gilder Lehrman Collection
The Gilder Lehrman Collection holds more than 60,000 primary source documents, including letters, diaries, maps, pamphlets, books, newspapers, photographs. The Collection's documents range from 1493 to the twentieth century, with a particular focus on the eras that span the Revolution to the Civil War (mid-18th to mid-19th centuries). The Collection is located at the New-York Historical Society, 170 Central Park West, New York, New York.
About the Gilder Lehrman Institute
Founded in 1994 by Richard Gilder and Lewis E. Lehrman, the Gilder Lehrman Institute of American History is a nonprofit organization devoted to the teaching and learning of American history. The Institute has developed an array of programs for schools, teachers, and students that operate in all fifty states, including a network of nearly 9,000 Affiliate Schools and a website that features more than 60,000 unique historical documents in the Gilder Lehrman Collection. Each year the Institute offers support and resources to tens of thousands of teachers, and through them enhances the education of more than a million students. The Institute's programs have been recognized by awards from the White House, the National Endowment for the Humanities, and the Organization of American Historians.