Gilder Lehrman Collection Ready for Student Workshops
New York, NY (October 1, 2015): The Gilder Lehrman Institute invites school groups to the Gilder Lehrman Collection for interactive workshops. Led by curators, these 90-minute sessions allow students to learn history by viewing, discussing, and analyzing original historic materials.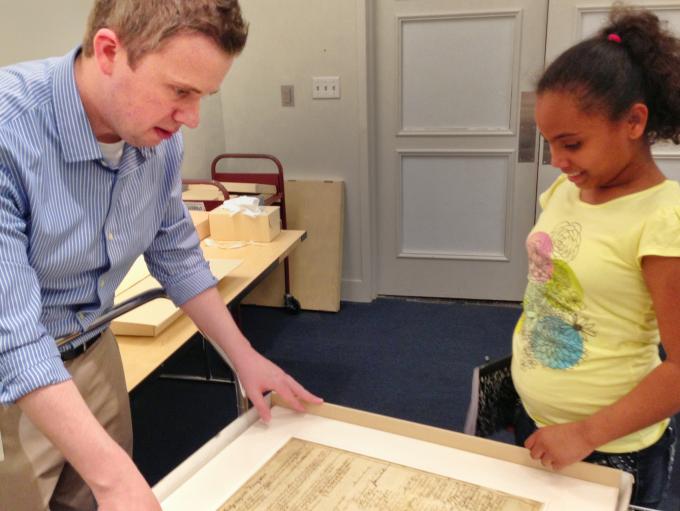 The Gilder Lehrman Collection, housed in the New-York Historical Society, holds 60,000 documents that span all eras of American History, from 1493 to the 20th century. For each workshop, documents are carefully selected to show various perspectives and give students a multifaceted view of history. Teachers can choose whether they would like these documents to cover a general survey of American history or reflect a particular era. After poring over historical manuscripts in small groups, students leave with copies of the documents they analyzed, a small souvenir of their time in the collection.
"We give students the opportunity to look at original documents, share compelling background stories, and work with students to explore the history in the documents, the same way historians do," explains Sandra Trenholm, Curator and Director of the Gilder Lehrman Collection.
Joe Shapiro, a history teacher from St. David's School who took his sixth grade students to a workshop on the American Revolution last year, believes that such primary source analysis plays a vital role in history education. "[Primary sources] offer a tangible connection to the past that textbooks simply cannot replicate . . . they often take a greater level of understanding and questioning to fully comprehend than a traditional textbook," he says.
The workshops offer not only an investigation of primary sources but a chance to see them in person, an experience that can often have a great effect on students. "The 'wow factor' of seeing historical materials up close creates a powerful emotional memory," says Ms. Trenholm. "And that has a lasting impact. The documents make history more personal–it becomes real and relatable for the participants."
Mr. Shapiro remembers his students' reactions to seeing a real 18th-century document. While analyzing Paul Revere's famous depiction of the Boston Massacre and discussing the importance of taking into account perspective, his students were shown an original hand-colored copy of the engraving, prompting a chorus of enthusiastic responses. "Words like 'cool,' 'sweet,' and 'sick' were thrown around with abandon—music to a history teacher's ears," he recalls.
About the Collection
The Gilder Lehrman Collection houses over 60,000 primary source documents, including letters, diaries, maps, pamphlets, books, newspapers, photographs. The Collection's documents range from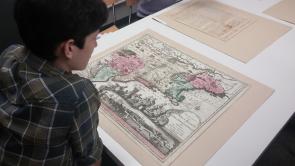 1493 to the twentieth century, with a particular focus on the eras that span the Revolution to the Civil War (mid-18th to mid-19th centuries). The Collection is located at the New-York Historical Society, 170 Central Park West, New York, NY. For more information on student workshops, or to register for one, visit the website or contact Sandra Trenholm at [email protected].
About the Gilder Lehrman Institute
Founded in 1994 by Richard Gilder and Lewis E. Lehrman, the Gilder Lehrman Institute of American History is a nonprofit organization devoted to the teaching and learning of American history. The Institute has developed an array of programs for schools, teachers, and students that operate in all fifty states, including a network of 7,000 Affiliate Schools and a website that features more than 60,000 unique historical documents in the Gilder Lehrman Collection. Each year the Institute offers support and resources to tens of thousands of teachers, and through them enhances the education of more than a million students. The Institute's programs have been recognized by awards from the White House, the National Endowment for the Humanities, and the Organization of American Historians.