Gilder Lehrman Institute of American History Launches New Classroom Resource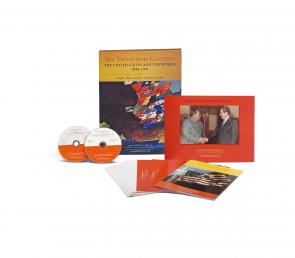 New York, NY (February 10, 2014)—The Gilder Lehrman Institute announces the ninth volume in its award-winning History in a Box series, The Twentieth Century: The United States and the World, 1898–1991. The comprehensive resource box provides materials for educators to address critical issues of the twentieth century, including social revolution, technical innovation and competition, and international events and relationships shaping the United States and its place in the world.
With the 100th anniversary of the beginning of World War I occurring this year, lead scholar Professor Jeremi Suri tells us, "We confront foreign policy crises that challenge us on a daily basis. These events only make sense to us if we understand the history surrounding them." History in a Box gives teachers tools to help students develop a deeper understanding of the context of this era by investigating how the people, places, and events influenced one another in an increasingly interdependent world.
The Twentieth Century History in a Box is centered on a digital resource book that offers teachers a framework for discussion of American foreign policy. It is organized into eight chronological periods from the Spanish-American War in 1898 to the end of the Cold War in 1991. Primary documents, annotated illustrations, and a list of suggested readings and websites are included. The documents, reproduced in facsimile and transcription, are downloadable.
Also included:
Teaching Literacy through History

, a 32-page booklet with three units (and a bonus unit on the CD) aligned with the Common Core State Standards supporting literacy

A set of ten numbered posters, including two maps, with captions about US foreign relations in the twentieth century

Ten placards of images and primary sources with discussion questions for small-group work

A poster-sized timeline that allows students to see important events in the history of the United States in international context

Historians on the Record

, a DVD with eight lectures by leading scholars including John Gaddis, Jeremi Suri, and Sergei Khrushchev
The Twentieth Century: The United States and the World, 1898–1991 was developed and written by:
Jeremi Suri,

Mack Brown Distinguished Chair for Leadership in Global Affairs

, The University of Texas at Austin (Lead scholar on the project)

David M. Kennedy,

Donald J. McLachlan Professor of History, Emeritus

, Stanford University (Advisor to the project)

Mitchell Lerner,

Associate Professor of History, Director, Institute of Korean Studies, Office of International Affairs

, The Ohio State University (Advisor to the project)
The Twentieth Century History in a Box, priced at $74.99, is available for purchase at www.gilderlehrmanstore.org.