Gilder Lehrman Institute Honors Mary Huffman as 12th National History Teacher of the Year
New York, NY (October 19, 2015): Mary Huffman, a fifth grade teacher at Charles Pinckney Elementary in Mount Pleasant, South Carolina, received the 2015 National History Teacher of the Year Award on Monday, October 19, at the Yale Club in New York City. The $10,000 award, co-sponsored by the Gilder Lehrman Institute of American History, Preserve America, and the Advisory Council on Historic Preservation, promotes the importance of quality history education by annually recognizing an exceptional American history teacher.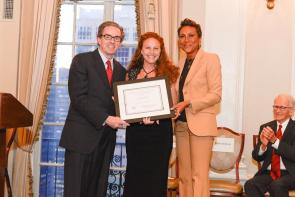 The award was presented by Robin Roberts of ABC's Good Morning America in a ceremony that included remarks from James G. Basker, President of the Gilder Lehrman Institute; three of Ms. Huffman's former students; and members of the Gilder Lehrman Student Advisory Council.
While presenting the award, Ms. Roberts recognized the eloquence of Ms. Huffman's former students as a reflection of her excellent teaching. "I can only imagine seeing her in her classroom, and realizing that history is a living, breathing, entity," Ms. Roberts said. "And she brings it to life each and every day. I am so grateful to be here, and to hear from her, and to honor her."
South Carolina Superintendent of Education Molly Spearman and Charleston Mayor Joseph P. Riley Jr. were among those who came to pay tribute to Mary Huffman. Mayor Riley commended Ms. Huffman for having a lasting impact on her students: "You have made your students not only lifetime students of history, but you've taught them that what moves the world is passion. Mary Huffman, you are a national treasure."
Guests at the ceremony included Gilder Lehrman trustees Daniel P. Jordan, Shaiza Rizavi, Victoria Phillips, and Debbie Stapleton, and President's Council members Amanda Jones, Hugh Nguyen, Elizabeth Brady, and Dixie Deluca. Several eminent historians were in attendance as well, including David Blight, Richard Brookhiser, and John Stauffer.
Mason Yost and brothers Jason and Matthew Wolan, three of Ms. Huffman's former students, took to the podium in praise of their fifth grade teacher. "Ms. Huffman is a big part of why history is my favorite subject. She showed me how fun and challenging history could be," said Matthew. Mason explained, "Before fifth grade I had no interest in history. But by the end of the year, I was helping my older sister study for her AP US History exam. We didn't learn history—we experienced it."
In her speech, Ms. Huffman thanked her family for their support of her teaching. She also explained where the idea for her historical reenactments in the classroom came from: "I had found out a way that I could pull my boys and girls back in—I wanted to find something they loved too."
Ms. Huffman is the 12th National History Teacher of the Year, an annual award that began in 2004. She was chosen as National History Teacher of the Year from among the 42 State Teacher of the Year winners. In addition to a $10,000 prize, Ms. Huffman received a special private tour of the Gilder Lehrman Collection and an archive of Gilder Lehrman books and resources to share with her students.
Learn more about the National History Teacher of the Year Award at gilderlehrman.org/nhtoy.
About The Gilder Lehrman Institute of American History
Founded in 1994 by Richard Gilder and Lewis E. Lehrman, the Gilder Lehrman Institute of American History is a nonprofit organization devoted to the improvement of history education. The Institute has developed an array of programs for schools, teachers, and students that operate in all fifty states, including a website that features more than 60,000 unique historical documents in the Gilder Lehrman Collection. Each year the Institute offers support and resources to tens of thousands of teachers, and through them enhances the education of more than a million students. The Institute's programs have been recognized by awards from the White House, the National Endowment for the Humanities, and the Organization of American Historians.