Martha Hodes, Mourning Lincoln, Named 2016 Gilder Lehrman Lincoln Prize Winner
New York, NY (February 16, 2016): The 2016 Gilder Lehrman Lincoln Prize will be awarded to Martha Hodes, Professor of History at New York University, for her book Mourning Lincoln, published in 2015 by Yale University Press.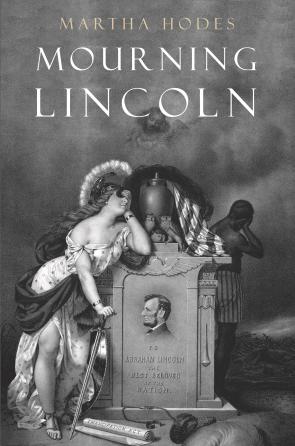 The book is a culmination of years of research focusing on the personal reactions of Americans across regional, racial, economic, and political lines to the assassination of Abraham Lincoln. The Prize is awarded by Gettysburg College and the Gilder Lehrman Institute of American History. Hodes's book was chosen from 132 submissions and five finalists as the 2016 recipient. Hodes will receive $50,000 and a bronze replica of Augustus Saint-Gaudens's life-sized bust "Lincoln the Man" in a ceremony on April 21 in New York City.
"To get a telephone call from James Basker one January evening seemed like a dream," recalled Hodes. "As someone who has studied and taught the Civil War for 25 years, the Lincoln Prize affirms the import of imparting that knowledge to students and readers."
Gilder Lehrman Institute President James G. Basker is one of the six Gilder Lehrman Lincoln Prize Board members who decided this year's winner. In addition to Richard Gilder and Lewis Lehrman, principals of the Gilder Lehrman Institute of American History in New York and co-creators of the Gilder Lehrman Collection, other board members include Gettysburg College President Janet Morgan Riggs, and Trustees Emeritus David LeVan and H. Scott Higgins.
Hodes and the other finalists were recommended to the board by a three-person jury, which consisted of Harold Holzer, Jonathan F. Fanton Director of The Roosevelt House Public Policy Institute at Hunter College in New York City; James Oakes, Distinguished Professor of History and Graduate School Humanities Professor at the Graduate Center of the City University of New York; and Susannah Ural, Charles W. Moorman Distinguished Alumni Professor of the Humanities and co-director of the Dale Center for the Study of War & Society in the history department at the University of Southern Mississippi. The jury read a total of 132 books submitted for the 2016 Prize.
In their report to the board, Holzer, Oakes, and Ural wrote, "Mourning Lincoln is a stunning and enlightening work that underscores the rage that Lincoln's assassination fueled, the outpouring of grief that resulted, and how the anger and confusion that boiled across the country that summer influenced the failures of Reconstruction."
The thoughtful scholarship that the jury commended is one of the many aspects of the work that Riggs was quick to recognize, as well.
"Gettysburg College is once again honored to partner with the Gilder Lehrman Institute of American History in recognizing a truly extraordinary piece of scholarship," said Riggs. "Mourning Lincoln provides an intimate portrait of the immediate reactions of blacks and whites, northerners and southerners, to Lincoln's assassination—reactions that ranged from grief to delight. Martha Hodes weaves together her thorough research into a fascinating read that illuminates this tumultuous time in America's history."
Likewise, Basker appreciates how Hodes's narrative brings to life a defining moment in our nation's history.
"It is books like Mourning Lincoln that make colossal historic events seem real, give them a human dimension with which we can all connect," said Basker. "Professor Hodes writes beautifully, the many stories she tells are by turns illuminating, touching, and shocking, and the overall impact of her book is very powerful. It is a compelling read for specialists and general readers alike."
In the end, though, Hodes stresses that what readers can take away from her book extends beyond the immediate reaction to a national tragedy.
"Personal responses to Lincoln's assassination tell a larger story about American history," Hodes said. "The assassination provoked responses that were deeply intertwined with irreconcilable visions. Black freedom, the fate of former Confederates, and the future of the nation were at stake for all Americans, whether they grieved or rejoiced when they heard the news. Because the meaning of the Civil War remains unresolved, we continue to ponder Lincoln's legacies into the 21st century."
In addition to citing Hodes's book, the jury recommended six additional finalists, whose books will also be acknowledged at the April 21 Lincoln Prize award dinner. They are: Michael Anderegg for Lincoln and Shakespeare (University of Kansas Press); Eric Foner for Gateway to Freedom: The Hidden History of the Underground Railroad (W. W. Norton); Richard Wightman Fox for Lincoln's Body: A Cultural History (W. W. Norton); Earl J. Hess for Civil War Infantry Tactics: Training, Command, and Small-Unit Effectiveness (LSU Press); Jonathan D. Sarna and Benjamin Shapell for Lincoln and the Jews (St. Martin's); NS John Stauffer, Zoe Trodd, and Celeste-Marie Bernier for Picturing Frederick Douglass: An Illustrated Biography of the Nineteenth-Century's Most Photographed American (W. W. Norton).
About Gilder Lehrman
The Gilder Lehrman Institute of American History is a nonprofit devoted to the teaching and learning of American history. Gilder Lehrman draws on top scholars, an unparalleled collection of original historical documents, and a national network of more than 8,000 Affiliate Schools to create and provide a broad range of innovative resources to help teachers, students, scholars, and the general public learn about American history in a way that is engaging and memorable. The Institute's programs have been recognized by awards from the White House, the National Endowment for the Humanities, and the Organization of American Historians. For more information: www.gilderlehrman.org.