South Carolina's Mary Huffman Named 2015 National History Teacher of the Year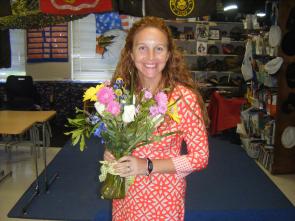 New York, NY (August 18, 2015): The Gilder Lehrman Institute of American History is pleased to announce that Mary Huffman from Mount Pleasant, South Carolina, has been named the 2015 National History Teacher of the Year. Started in 2004, the award highlights the crucial importance of history education by honoring exceptional American history teachers from elementary school through high school.
Ms. Huffman will receive a $10,000 award and attend a ceremony in her honor at the Yale Club in New York City on October 19, 2015. The award will be presented by Robin Roberts, co-anchor on ABC's morning show Good Morning America.
Mary Huffman teaches fifth grade at Charles Pinckney Elementary, a public school in Mount Pleasant, South Carolina. She uses hands-on lessons to help her students "become active American citizens who make positive changes in the future." Her students create care packages, write letters to US troops, and participate in veteran's week celebrations by inviting soldiers into the classroom. Ms. Huffman has also designed an interactive unit that includes a WWII draft simulation.
"It is essential that the past is not forgotten, and teachers hold the tools to pry open old hope chests to uncover dusty photo albums from the past," Ms. Huffman explains. Each week, she dresses up in clothing from the era being studied, allowing her students to get up close and personal with historic artifacts, such as twenties flapper dresses, nineteenth-century Native American fringed pants, and military uniforms from the Vietnam era.
"One of the most exciting things the Institute does is to award this prize that honors great teaching," says Lesley S. Herrmann, Executive Director of the Gilder Lehrman Institute. "I am in awe of Mary Huffman's creativity, dedication, and enthusiasm. Her students are lucky indeed."
In addition to the national award, Gilder Lehrman annually recognizes a first-rate history teacher in every state and US territory. Winners of the state awards receive $1,000 and an archive of Gilder Lehrman books and resources for their school library, and become finalists for the national award.
To learn more about the award and to find a list of previous national and state winners, visit gilderlehrman.org/nhtoy
About the Gilder Lehrman Institute of American History
Founded in 1994 by Richard Gilder and Lewis E. Lehrman, the Gilder Lehrman Institute of American History is a nonprofit organization devoted to the improvement of history education. The Institute has developed an array of programs for schools, teachers, and students that operate in all fifty states, including a website that features more than 60,000 unique historical documents in the Gilder Lehrman Collection. Each year the Institute offers support and resources to tens of thousands of teachers, and through them enhances the education of more than a million students. The Institute's programs have been recognized by awards from the White House, the National Endowment for the Humanities, and the Organization of American Historians.