3. Civil Rights Legislation
1. Civil Disobedience
How was nonviolent resistence and civil disobedience used to fight for civil rights?
During and after World War II, several legal challenges to Jim Crow laws were brought before the Supreme Court. While the Court ruled in favor of desegregation in several cases, these decisions were not enforced, particularly in the South. As a result, groups such as CORE and the NAACP supported nonviolent direct action—including boycotts, sit-ins, and strikes—as a strategy to take the civil rights struggle out of the courtroom and into the streets.
To learn more about civil rights leaders and non-violent protest, read "African American Religious Leadership and the Civil Rights Movement" by Clarence Taylor.
In the video below, historian Anthony J. Badger discusses nonviolent protest during the Civil Rights Movement.
What is the difference between nonviolent protest and civil disobedience?
Why was nonviolence so important to the movement?
What are some specific examples of nonviolent protest during the Civil Rights Movement?

Get a lesson plan

Back to Essential Questions
2. Freedom Summer
What was the Freedom Summer? What did it achieve?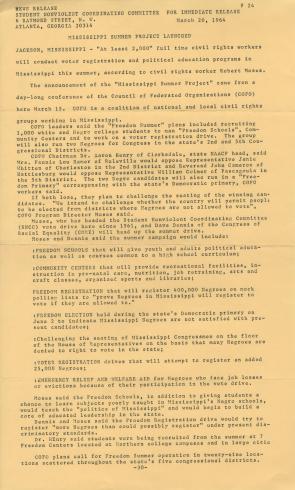 In the summer of 1964, a diverse group of students and civil rights advocates from around the country gathered in Mississippi for the Freedom Summer Project, also known as the Mississippi Summer Project. Organized by the Congress of Racial Equality (CORE), the goal of the Freedom Summer Project was to register as many African Americans to vote as possible and to educate young people on black history and civil rights. To read more about civil rights projects and the effect they had in America, read "The Civil Rights Movement: Major Events and Legacies" by James T. Patterson.
To the right is a copy of a 1964 press release about the Freedom Summer Project and its goals.
What was the goal of the Freedom Summer project? What did it accomplish?
Why did students volunteer for this project?
What kinds of threats and hardships did civil rights workers face?
Why do you think the emphasis of Freedom Summer was on voting rights?

Get a lesson plan

Back to Essential Questions
3. Civil Rights Legislation
How successful was the Civil Rights Movement in fighting racism and segregation?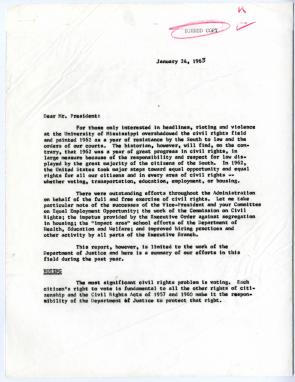 The Civil Rights Movement resulted in a number of federal laws and Supreme Court decisions protecting civil rights. Some of these acts include:
The laws effectively ended legal segregation and discrimination, but could not change the racist beliefs of many Americans. Many southerners fought desegregation with picket lines, intimidation, and violence.
How does federal legislation affect state laws?
What ways did the federal government have to enforce federal civil rights laws?
Does segregation exist today?

Get a lesson plan

Back to Essential Questions