Current Criteria
›› Coverage Events : Embargo of 1807
Showing results 1 – 3 of 3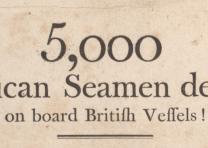 Glossary Term – Event
In an attempt to avert war, the United States imposed an embargo on foreign trade. The embargo was an unpopular and costly failure. It hurt the American economy far more than the British or French and resulted in widespread smuggling and unemployment.
Glossary Term – Person
Napoleon Bonaparte (1769–1821) seized power in France at the end of the French Revolution and turned his focus toward expanding his empire. In 1803, Napoleon sold the entire Louisiana Territory to the United States. Also in 1803, just before crowning himself emperor, Napoleon began waging wars for expansion, conquering most of Europe. Conflict between France and Great Britain complicated things for neutral America, with the warring countries placing restrictions on American trade. The United States responded to the restrictions with the...