Current Criteria
›› Coverage Events : Federal Reserve Act
Showing results 1 – 3 of 3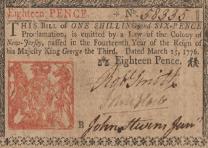 Glossary Term – Event
The Federal Reserve Act created the Federal Reserve System to serve as the nation's central bank.
Glossary Term – Person
Thomas Woodrow Wilson (1856–1924) was born in Virginia but grew up in Augusta, Georgia, where his father was an official of the Southern Presbyterian church. After briefly practicing as a lawyer (he only had two clients, one of whom was his mother), he attended graduate school at Johns Hopkins and taught history and political science at Bryn Mawr, Wesleyan, and Princeton, his alma mater. As Princeton's president, he developed a reputation as a reformer for trying to eliminate the school's elitist system of teaching...