Current Criteria
›› Coverage Geographical : Morocco
Showing results 1 – 3 of 3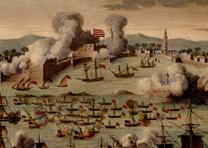 Essay
By the time Jefferson entered the White House, Congress was shelling out nearly one-fifth of the national budget to buy off the Barbary pirates. Jefferson wanted war, but was convinced that Congress would not support it. He therefore asserted an executive privilege: by executive order he sent a small fleet of American warships to the Mediterranean with instructions to protect US commerce.
Glossary Term – Event
Roosevelt and Churchill met in Casablanca, Morocco, and approved the policy of unconditional surrender. The trip made Roosevelt the first sitting president to both travel to Africa and leave the country during war.