Current Criteria
›› Coverage Geographical : Promontory Summit, Utah
Showing results 1 – 3 of 3
Glossary Term – Organization
The Central Pacific Railroad was established in 1861 by the "Big Four"—Leland Standford, Collis P. Huntingon, Charles Crocker, and Mark Hopkins. The Central Pacific was part of the first transcontinental rail line, though its progress was often slow. Chinese immigrants were largely responsible for building the rail, which began in Sacramento, California, and reached east until it met the Union Pacific Railroad in Promontory Summit, Utah, in May 1869 to complete the transcontinental line.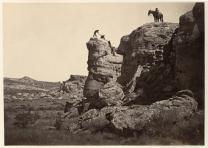 Primary Source
The exploration and settlement of the American West coincided with the development of the medium of photography. Photographic images, reproduced in books and newspapers and available for purchase on their own, helped shape Americans' perceptions of the West by reinforcing ideas about the region as a pristine wilderness of spectacular natural wonders; as a symbol of the future and the realization of manifest destiny; and as a land of economic opportunity, where fortunes could be made by extracting natural resources.
Andrew J. Russell...