Current Criteria
›› Coverage Geographical : Rochester, NY
Showing results 1 – 2 of 2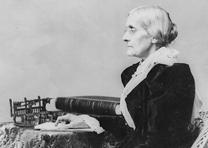 Primary Source
Writing in 1901 at the age of eighty, Susan B. Anthony summarized the state of women's rights.
Teaching Resource
Unit Objective
This unit is part of Gilder Lehrman's series of Common Core State Standards–based teaching resources. These units were written to enable students to understand, summarize, and analyze original texts of historical significance. The lessons are built around the use of textual evidence and critical thinking skills.
Lesson 1 Objective
Students will be asked to "read like a detective" and gain a clear understanding of "What to the Slave Is the Fourth of July," a speech delivered by Frederick...