Current Criteria
›› Coverage Geographical : Washington,DC
Showing results 1 – 2 of 2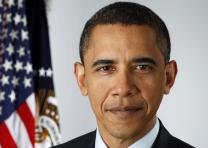 Essay
A New York Times headline in January 2009 captured the essence of Barack Obama's inauguration for many...
Glossary Term – Person
George W. Bush (1946–) was the forty-third president of the United States. Bush's two-term presidency was marked by the terrorist attacks of September 11, 2001, and the subsequent American wars in the Middle East. The oldest son of former President George H. W. Bush, George W. served in the Texas Air National Guard and worked in the Texas oil industry before entering politics. He was elected as the Republican governor of Texas in 1994 and won reelection in 1998. In 2000, he ran for the presidency against Democratic nominee Al Gore...