Current Criteria
›› Coverage Organizations : Constitutional Convention
Showing results 21 – 23 of 23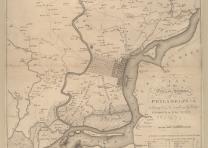 Teaching Resource
The image is so clear in our minds, seen first in elementary school and reinforced...
Teaching Resource
Historical Background
The Constitutional Convention in Philadelphia in the summer of 1787 was full of conflict and compromise. Yet as the convention drew to a close, some of the biggest debates were just beginning. According to the Constitution, nine of the thirteen states needed to ratify the document before it could go into effect (although most acknowledged that without the support of all the states, the government would struggle with legitimacy). It would take almost three years for all thirteen states to ratify the...
Teaching Resource
Students will develop a rich understanding of the arguments in favor of and in opposition to ratification of the US Constitution. They will examine and analyze key excerpts from "Federalist No. 51" (written by either Alexander Hamilton or James Madison), George Mason's Objections to the Constitution, and notes from Alexander Hamilton's Plan of Government speech. As the students discuss the arguments presented, they will come to understand the struggle of the nation to agree on its form of government.