Current Criteria
›› Coverage Organizations : HUAC
Showing results 1 – 2 of 2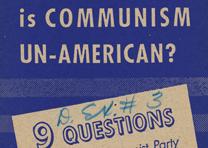 Essay
In 1950, fewer than 50,000 Americans out of a total US population of 150 million were members of the...
Teaching Resource
Reading 1
Sec. 2: (a) It shall be unlawful for any person—
(1) to knowingly or willfully advocate, abet, advise, or teach the duty, necessity, desirability, or propriety of overthrowing or destroying any government in the United States by force or violence, or by the assassination of any officer of such government;
(2) with the intent to cause the overthrow or destruction of any government in the United States, to print, publish, edit, issue, circulate, sell, distribute, or publicly display any written or printed...