Current Criteria
›› Coverage Organizations : Shoshone
Showing results 1 – 2 of 2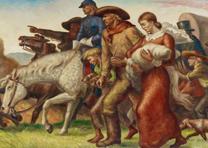 Essay
Women are like water to Western history. Both have flowed through the terrain we...
Glossary Term – Event
Conflict broke out when the United States failed to honor its 1868 treaty promising to assign prairie lands to the Bannock Indians. Pushed west by white incursion and suffering from starvation, the Bannock and Northern Shoshone tribes raided white settlements for food. The Army put down the raids, and the Bannock surrendered and were returned to their reservation near Fort Hall, Idaho.