Current Criteria
›› Coverage Organizations : Ute
Showing results 1 – 2 of 2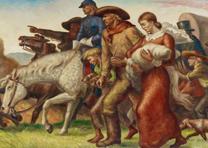 Essay
Women are like water to Western history. Both have flowed through the terrain we...
Teaching Resource
Mound Builders (Atlantic Ocean to the Mississippi River)
Key Groups: Adena (500 BC), Hopewell (100 BC)
Religion and Culture: Known as mound builders because they buried the dead in large earth mounds, these groups lived in small farming villages, which were likely run by leaders of clans (relatives). The villages grew and became increasingly complex, building trade networks and creating elaborate artwork using materials from as far away as the Gulf of Mexico and the Great Lakes. Adena culture was...