Current Criteria
›› Coverage People : Horace Mann
Showing results 1 – 3 of 3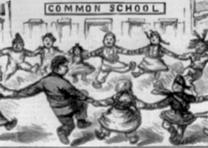 Essay
Education reform is often at the heart of all great reform struggles.[1]
By the 1820s Americans were...
Glossary Term – Person
Horace Mann (1796–1859) was an antebellum education reformer who served in the US House of Representatives. Mann was the leader of the Common School Movement, an effort to ensure free public education for all American children. He supported professional training for teachers and other education reformers and was an ardent abolitionist.
Teaching Resource
Reading 1:The elementary schools throughout the state are irresponsible institutions, established by individuals, from mere motives of private speculation or gain, who are sometimes destitute of character, and frequently of the requisite attainments and abilities. From the circumstance of the schools being the absolute property of individuals, no supervision or effectual control can be exercised over them; hence, ignorance, inattention, and even immorality, prevail to a lamentable extent among their teachers.
...