Current Criteria
›› Coverage People : James B. Weaver
Showing results 1 – 3 of 3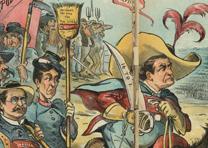 Essay
Blaming Wall Street for the nation's economic woes is not a new idea in American history. Over a...
Glossary Term – Person
Mary Elizabeth Lease (1853–1933) was a Populist Party organizer and orator. Lease became recognized in the early 1890s as a Populist Party speaker in Kansas and served as a delegate to the party's national convention in 1892, where she seconded the presidential nomination of James B. Weaver. She toured with Weaver's campaign in the West and with other Populist speakers in the South, reportedly urging farmers to "Raise less corn and more hell!" Lease vehemently opposed the Populist Party's connection to the Democratic Party, and after the...