Current Criteria
›› Coverage People : James Meredith
Showing results 1 – 3 of 3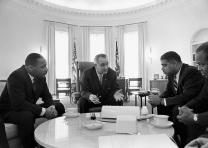 Essay
The most important social protest movement of the twentieth century was the civil rights movement, which...
Glossary Term – Event
Black veteran James Meredith arrived to begin classes at the University of Mississippi. Thousands of whites rioted, resulting in two deaths and 160 injuries. US troops were sent in to suppress the violence. Despite threats on his life, Meredith graduated in 1963. He had originally been rejected from the university because of his race.