Current Criteria
›› Coverage People : Jeannette Rankin
Showing results 1 – 3 of 3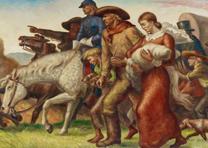 Essay
Women are like water to Western history. Both have flowed through the terrain we...
Glossary Term – Event
Jeannette Rankin began her first term as the first woman elected to the US House of Representatives.
Glossary Term – Person
Jeannette Rankin (1880–1973) was the first woman elected to Congress. Rankin, originally from Montana, was a social worker and became involved in the suffrage movement as a student at the University of Washington. She returned to Montana and ran successfully in 1916 as a Republican for Congress, where she supported woman suffrage and western issues, and voted against entering World War I. In the 1918 election she ran for the Senate but did not win. For the next two decades she continued to support social issues and pacifism. The threat of...