Current Criteria
›› Coverage People : Samuel F. B. Morse
Showing results 1 – 2 of 2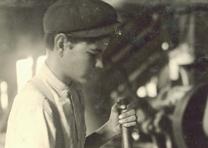 Essay
A Changing Nation
The second half of the nineteenth century can be described as a time of...
Teaching Resource
Overview:
Students will examine primary sources including letters, a patent, photos, and diagrams to identify and describe the technological invention and development of the telegraph that evolved during the nineteenth century.
Background:
Prior to 1830, communication across the country was limited to overland mail, which took approximately a month to reach its destination, or by the pony express, which...