Current Criteria
›› Keywords : Citizenship
Showing results 11 – 13 of 13
Teaching Resource
Unit Objective
This unit is part of Gilder Lehrman's series of Common Core State Standards–based teaching resources. These units were developed to enable students to understand, summarize, and analyze original texts of historical significance. Through a step-by-step process, students will acquire the skills to analyze any primary or secondary source material.
Over the course of three lessons the students will analyze text from three documents defining American democracy: the Preamble to the United States Constitution, the...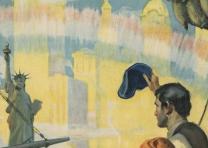 Teaching Resource
Could you pass the US citizenship test? Take these quizzes to see how well you know the American history and civics required of people taking the naturalization test. The actual test is not multiple choice, but these are the 100 questions from which each potential citizen's 10-question civics and history exam are drawn.