Showing results 1 – 3 of 3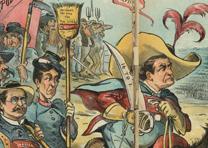 Essay
Blaming Wall Street for the nation's economic woes is not a new idea in American history. Over a...
Glossary Term – Event
The stock market crashed, prompting the Panic of 1893 and leading to the bankrupting of the United States Treasury. The already weakened economy collapsed as people withdrew deposited funds and banks failed. Exports also declined and unemployment grew.