Current Criteria
›› Keywords : Sovereignty
Showing results 1 – 2 of 2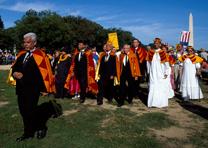 Essay
The American West is home to the majority of America's Indian Nations, and,...
Teaching Resource
Gentlemen of the Congress:
Once more, as repeatedly before, the spokesmen of the Central Empires have indicated their desire to discuss the objects of the war and the possible basis of a general peace. Parleys have been in progress at Brest-Litovsk between Russsian representatives and representatives of the Central Powers to which the attention of all the belligerents have been invited for the purpose of ascertaining whether it may be possible to extend these parleys into a general conference with regard to terms of peace and...