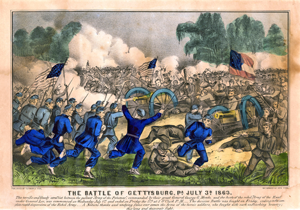 Professor Matthew Pinsker
Dickinson College

July 23–November 19, 2013

To honor the legacy of Abraham Lincoln, one of the world's great self-made, lifelong learners, the Gilder Lehrman Institute and Dickinson College are providing open access to key elements of their first joint online graduate course in American history, Understanding Lincoln.
Open Course Includes
Focus on Abraham Lincoln''s key writings and legacies
Videos of recorded seminar sessions with Professor Pinsker
Videos of recorded guest lectures from top historians such as David Blight, Eric Foner, and James McPherson
Virtual field trips to Civil War locations such as the Gettysburg battlefield
Interactive pedagogy discussions with experts from Gilder Lehrman
Guidance on reading Abraham Lincoln with standards such as the Common Core
Wide-ranging introduction to various digital tools useful for teaching and research
Opportunities to collaborate online with fellow participants
Open Course Completion Requirements
To receive a Certificate of Completion from Dickinson College, participants must:
register online, in advance (see deadline information below);
engage in various discussion and comment forums; and
successfully complete a series of online quizzes testing knowledge about the text and context of key Lincoln documents.
Cost: Free
CLICK HERE FOR MORE ABOUT COURSE CONTENT, ASSIGNMENTS, AND SCHEDULE.
Registration Deadline
The registration period will end at 11:59 p.m. Eastern Time on Friday, July 19, 2013. Registration is unlimited for the open online course, but interested individuals must register by this deadline in order to participate in the course.
July 23rd, 2013 12:00 AM through November 19th, 2013 12:00 AM
| | |
| --- | --- |
| Credit Options | |
| Full credit graduate course | $600.00 |
| Audit the course | $25.00 |
| Audit the course (Discounted for members of Affiliate School & Public Library Affiliate Programs) | $15.00 |