Lincoln, Abraham (1809-1865) [Order for Daniel Linder]
High-resolution images are available to schools and libraries via subscription to American History, 1493-1943. Check to see if your school or library already has a subscription. Or click here for more information. You may also request a pdf of the image from us here.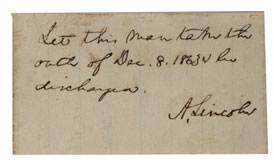 A high-resolution version of this object is available for registered users. LOG IN or SUBSCRIBE
Summary of Content: Lincoln proclaimed a pardon possibility for rebellious soldiers December 8, 1863, in his annual message to Congress. Daniel Linder, son of Usher F. Linder, an old friend of Lincoln in Chicago, was freed on Dec. 26, the date assumed for this document.
Background Information: The Oath of December 8th was announced by Lincoln, on that day, in his annual message to Congress in 1863. He would issue a proclamation, he said, offering a pardon to ...any man who would swear without coercion, his allegiance to the Union. The Proclamation of Amnesty and Reconstruction provided a general pardon to soldiers in the Rebellion, and to those, too, who deserted the Union cause. The oath reads in part: "I, [name], solmenly swear, in the presence of Almighty God, that I will henceforth faithfully suport, protect and defend the Constitution of the United States, and the union of the States thereunder; and that I will, in the like manner, abide and faithfully support all acts of Congress passed during the existing rebellion with reference to slaves. . . So help me God."

Lincoln received a letter from U.F. Linder just before Christmas, requesting a pardon in a Yankee prison. On Dec. 22, Lincoln wrote to the Military Commander at Pointe Lookout in Maryland. "If you have a prisoner by the name of Linder," he wrote, "Daniel Linder, I think, and certainly the son of U.F. Linder, of Illinois--please send him to me by an officer." Four days later, the prisoner Daniel Linder stood before him in the White House. He came accompanied by a guard, and a letter from Brigadier General Gilman Marston according to Lincoln's request. Lincoln turned the letter over and on an integral second sheet, wrote these words: "Daniel W. Linder, the Daniel Linder named within, is the son of my friend U.F. Linder, at Chicago, Ills. Please administer the oath of allegiance to him, and send him to his father."See More
Full Transcript: Let the man take the oath of Dec. 8. 1863 & be discharged. A. Lincoln
People: Lincoln, Abraham, 1809-1865
Linder, Daniel

Historical Era: Civil War and Reconstruction, 1861-1877
Subjects: PresidentCivil WarPardonLawMilitary HistoryOathConfederate States of AmericaAmnestyPrisoner of War
Sub Era: The American Civil War