Lincoln, Abraham (1809-1865) to Samuel Galloway
High-resolution images are available to schools and libraries via subscription to American History, 1493-1943. Check to see if your school or library already has a subscription. Or click here for more information. You may also order a pdf of the image from us here.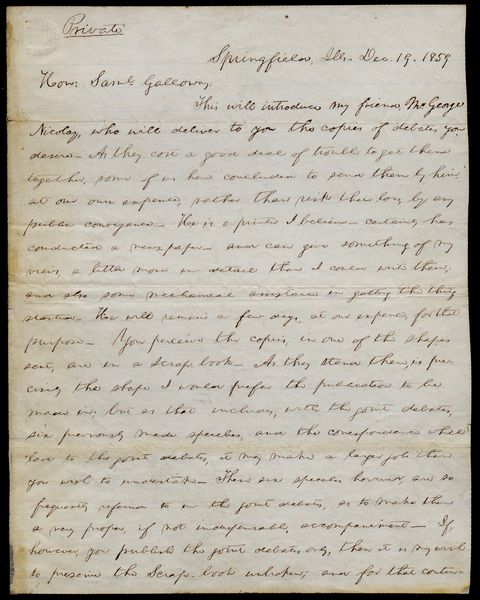 A high-resolution version of this object is available for registered users. LOG IN
Gilder Lehrman Collection #: GLC00365 Author/Creator: Lincoln, Abraham (1809-1865) Place Written: Springfield, Ill. Type: Autograph letter signed Date: 19 December 1859 Pagination: 2 p. ; 26 x 20 cm.
Summary of Content: With two postscripts, one initialed. Headed "Private." Introducing John "George" Nicolay (later Lincoln's personal secretary) and describing how he wants the Lincoln-Douglas debates published. In the 1860 presidential election, the debates served as an essential statement of Republican Party principles, especially on the issue of slavery being extended into the territories. Given the importance of the debates, it is unsurprising that Lincoln emphasizes the importance of fidelity to the original speeches: "As they stand there, is precisely the shape I would prefer the publication to be made in…. [….] …Mr Nicolay will furnish you another double set of the joint debates, so that Douglas' speeches can be taken from the paper friendly to him, and mine from that friendly to me. Of course I wish the whole to be accurately done; but especially let there be no color of complaint, that a word, or letter, in Douglas' speeches, has been changed." In fact, Lincoln printed the debates over Douglas's objections. Samuel Galloway, an attorney at Columbus, Ohio, helped get the Lincoln-Douglas Debates printed. Lincoln served as counsel to Galloway, who was also an early promoter of him for president. Basler, Roy P. The Collected Works Of Abraham Lincoln, (New Brunswick, NJ and London: Rutgers University Press, 1974), Vol. X 1832 - 1865, p. 47 - 48.
Background Information: Notes: Basler 10: 47-48, prints a slightly different version based upon a copy in the Ohio State Historical Society, Galloway Papers. The Ohio copy joins the four paragraphs in the body ...of Lincoln's letter, combines some sentences and changes some words without many changes to meaning. Substantive variations appear below.
He is a printer I believe-certainly.... | Basler: believe & certainly.
You perceive the copies, in one of the shapes.... | Basler: You will perceive... in all of the shapes.
...in a scrap book. As they stand there, is precisely the shape... | Basler: in a scrapbook, as they stood there, precisely in the shape....
Allow me to add that I esteem...; and to assure you, and the other kind friends.... | Basler: and to assure to the other kind friends.
Still, I think it would be indelicate in me to cause a publication of the correspondence. | Basler: publish the.
...the copies of the Columbus & Cincinnati speeches, which I send, are as corrected by myself. | Basler: are a correction by me.
See More
Full Transcript: Private
Springfield, Ills. Dec. 19.1859
Hon: Saml Galloway:
This will introduce my friend Mr. [John] George Nicolay, who will deliver to you the copies of debates you desire. As they cost ...a good deal of trouble to get them together, some of us here concluded to send them by him, at our own expense, rather than risk their loss, by any public conveyance. He is a printer I believe-certainly has conducted a newspaper-and can give something of my views, a little more in detail than I could write them; and also some mechanical assistance in getting the thing started. He will remain a few days, at our expence, for that purpose. You perceive the copies, in one of the shapes sent, are in a scrap-book. As they stand there, is precisely the shape I would prefer the publication to be made in; but as that includes, with the joint debates, six previously made speeches, and the correspondence which led to the joint debates, it may make a larger job than you wish to undertake. These six speeches however, are so frequently referred to in the joint debates, as to make them a very proper, if not indispensible, accompaniment. If, however, you publish the joint debates only, then it is my wish to preserve the Scrap-book unbroken; and for that contingency, [2] Mr Nicolay will furnish you another double set of the joint debates, so that Douglas' speeches can be taken from the paper friendly to him, and mine from that friendly to me.
Of course I wish the whole to be accurately done; but especially let [struck: them] there be no color of complaint, that a word, or letter, in Douglas' speeches, has been changed.
Allow me to add that I esteem the compliment [struck: you pay] [inserted: paid] me in this matter, as the very highest I have ever received; and to assure you, and the other kind friends that [strikeout] [inserted: it] shall ever be held in grateful remembrance.
Still, I think it would be indelicate in me to cause a publication of the correspondence. You can do that if you choose.
Yours very truly
A. Lincoln
P.S. I forgot to say in the proper place, that the copies of the Columbus & Cincinnati speeches, which I send, are as corrected by myself. AL
P.S. Mr. Nicolay is a good Republican, and a good man; and worthy of any confidence which may be bestowed upon him-



See More
People:
Historical Era: National Expansion and Reform, 1815-1860
Subjects: ElectionPrintingBook SellingPoliticsPresidentGovernment and CivicsRepublican PartyJournalism
Sub Era: Age of Jackson