Volck, Adalbert John (1828-1912) Free Negroes in the North
High-resolution images are available to schools and libraries via subscription to American History, 1493-1943. Check to see if your school or library already has a subscription. Or click here for more information. You may also request a pdf of the image from us here.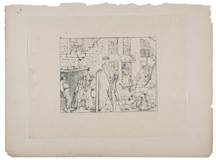 Gilder Lehrman Collection #: GLC00493.26 Author/Creator: Volck, Adalbert John (1828-1912) Place Written: s.l. Type: Print Date: circa 1880-1890 Pagination: 1 etching : b&w ; 26 x 34.6 cm.
A high-resolution version of this object is available for registered users. LOG IN or SUBSCRIBE
Summary of Content: Depicts a scene of urban depravity. Volck is seeking to convey the hypocrisy of the North when it comes to the plight of blacks. The focal point of the sketch is a well-dressed white man who may be Henry Ward Beecher, a leader in the antislavery movement and pastor of a congregation in near Brooklyn, New York. Despite his finery, Beecher does not offer monetary help to the emaciated beggar clothed only in rags: he merely drops a religious "tract" to him with a gloved hand. On the other side of a fence, another white man looks through his purse to pay two grave robbers for a corpse. All of this is taking place on a street corner called "Lovely Lane," outside of an establishment with a sign above the door that reads, "Praise the Lord Bare Bones Colored Mens Home." Inside the building, all manner of debauchery and mayhem seems to be going on. Upstairs men and women are dancing and carousing while other women lean out the windows suggestively. A fight spills out the upstairs balcony. Size in extent is for the mount. The actual size of the etching is 20.4 x 26.6 cm. Title in pencil on verso.
Background Information: Adalbert John Volck was a dentist, political cartoonist, and a caricaturist who sympathized with the Southern cause. During the Civil War, Volck supported the Confederacy through his satirical political cartoons. ...He also smuggled drugs and medical supplies for the Confederate army, and served as a personal courier to President Jefferson Davis. See More
People:
Historical Era: Civil War and Reconstruction, 1861-1877
Subjects: ReligionAbolitionReform MovementAfrican American HistorySlaveryFreemenHumor and SatireArt, Music, Theater, and FilmPropagandaMorality and EthicsCivil WarConfederate States of America
Sub Era: African Americans and Emancipation