Washington, George (1732-1799) Inaugural address [leaf from 1st draft of discarded first inaugural = pp.36-37]
High-resolution images are available to schools and libraries via subscription to American History, 1493-1943. Check to see if your school or library already has a subscription. Or click here for more information. You may also order a pdf of the image from us here.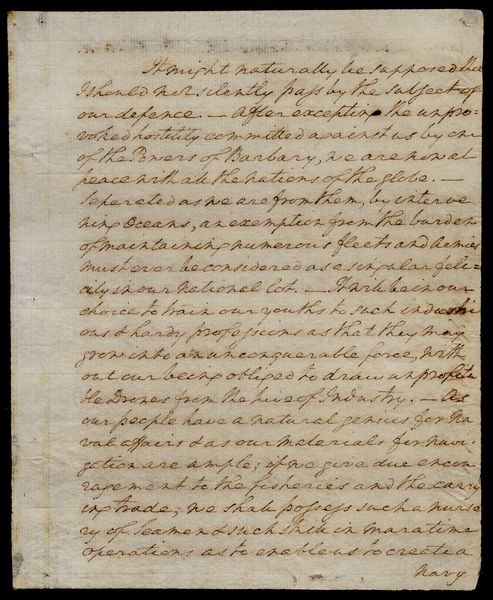 A high-resolution version of this object is available for registered users. LOG IN
Gilder Lehrman Collection #: GLC00639.25 Author/Creator: Washington, George (1732-1799) Place Written: New York Type: Autograph manuscript Date: [ April 1789 ] Pagination: 2 p. ; 23 x 19 cm.
Summary of Content: Concerning foreign relations, American trade, manufacture and defense. This was a first draft which Washington later discarded. The manuscript was disassembled by Jared Sparks and leaves or clippings were given away as samples of GW's handwriting. Sparks regarded the document as unimportant since Washington had not actually used this draft. See also GLC 1589 and 4443.01.
Background Information: Notes: Fitzpatrick, Writings of Washington. 30: 291-308. Washington entirely rewrote and discarded this draft of his first inaugural address. This leaf, with the rest of the address, was dispersed by the ...nineteenth century historian Jared Sparks after 1837. The complete address consisted of sixty-four pages of which twenty-six (including these two, pages 36 & 37) survive. GLC has two other leaves from the address: pages 57-58 as contained in GLC 1589, and 49-50 in GLC 4443.01.
Signer of the U.S. Constitution.See More
Full Transcript: It might naturally be supposed that I should not silently pass by the subject of our defence.__ After excepting the unprovoked hostility committed against us by one of the Powers ...of Barbary, we are now at peace with all the nations of the globe.__ Separated as we are from them, by intervening oceans, an exemption from the burden of maintaining numerous fleets and armies must ever be considered as a singular felicity in our national lot.__ It will be in our choice to train our youths to such industrious & hardy professions as that they may grow into an unconquerable force, without our being obliged to draw unprofitable Drones from the hive of Industry.__ As our people have a natural genius for Naval affairs & as our materials for Navigation are ample; if we give due encouragement to the fisheries and the carrying trade; we shall possess such a nursery of Seamen & such skill in maratime [sic] operations as to enable us to create a [2] Navy almost in a moment.__ But it will be wise to anticipate events & to lay a foundation in time.__ Whenever the circumstances will permit, a grand provision of warlike stores, arsenals and dock?yards ought to be made.
As to any invasion that might be meditated by foreigners against us on the land, I will only say, that, if the mighty Nation with which we lately contended could not bring us under the yoke, No Nation on the face of the earth can ever effect it; while we shall remain United & faithful to ourselves.__ A well organized Militia would constitute a strong defence; of course, your most serious attention will be turned to such an establishment.__ In your recess, it will give me pleasure, by making such reviews, as opportunities may allow, to attempt to revive the antient [sic] military spirit.__ During the present impoverished state of our Finances I would not wish to see any expence incurred by augmenting our [catchword: regular]






See More
People: Washington, George, 1732-1799

Historical Era: The New Nation, 1783-1815
Subjects: PresidentInaugural AddressInaugurationGovernment and CivicsGlobal History and US Foreign PolicyGlobal History and US Foreign PolicyCommerceMerchants and TradeIndustryMilitary HistoryPresidential Speeches and Proclamations
Sub Era: The Early Republic