Semmes, Emily J. (fl. 1862-1863) to Paul J. Semmes
High-resolution images are available to schools and libraries via subscription to American History, 1493-1943. Check to see if your school or library already has a subscription. Or click here for more information. You may also request a pdf of the image from us here.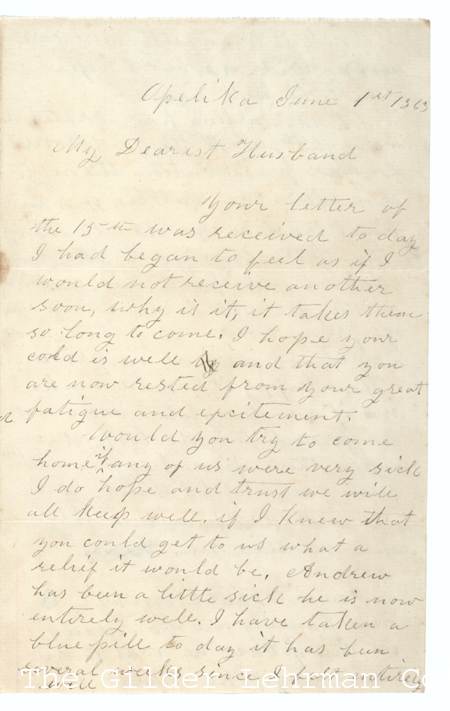 A high-resolution version of this object is available for registered users. LOG IN or SUBSCRIBE
Summary of Content: Writes to her "dearest husband" as he is on his way to Gettysburg, Pennsylvania, where he was mortally wounded in battle. Hopes that he is over his cold and fatigue. Asks if he would be able to come home if one of the family got sick because knowing this would put her at ease. Gives thanks that he made it through battles. Comments on their children and their schooling. Criticizes their daughters for their excessive pride, "...they do look down upon these poor people with such contempt I think it is so wicked I pray that they may see their sin." States that she has been very frugal, they have enough supplies and the garden is doing well. Includes a postcript instructing Semmes to "Destroy this as soon as you read it."
Background Information: Semmes was a Georgia banker and plantation owner who served as agent for the State of Georgia during the preparations for the Civil War. He served as colonel of the 2...nd Georgia in the Confederate Army at the outbreak of the war and was promoted to brigadier general in March 1862. He was assigned to a brigade in McLaws' division of Longstreet's corps fighting in Crampton's Gap, Sharpsburg, Fredericksburg, Salem Church, and Gettysburg, where he was mortally wounded. See More
People: Semmes, Emily J., fl. 1862
Semmes, Paul Jones, 1815-1863

Historical Era: Civil War and Reconstruction, 1861-1877
Subjects: Battle of GettysburgMilitary HistoryCivil WarConfederate General or LeaderConfederate States of AmericaChildren and FamilyMarriageWomen's HistoryHealth and MedicalEducationMorality and EthicsFinance
Sub Era: The American Civil War