Lincoln, Abraham (1809-1865) to E. Malhiot re: delaying vote in Louisiana until slavery is abolished
High-resolution images are available to schools and libraries via subscription to American History, 1493-1943. Check to see if your school or library already has a subscription. Or click here for more information. You may also order a pdf of the image from us here.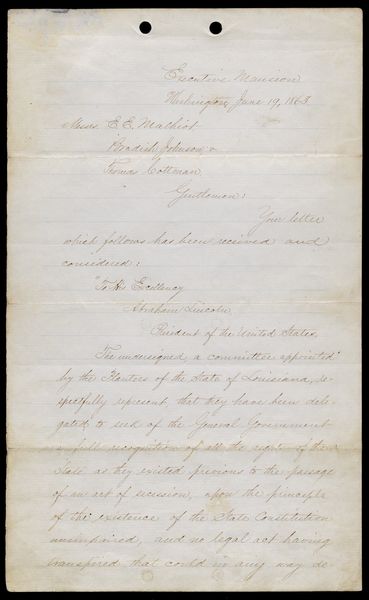 A high-resolution version of this object is available for registered users. LOG IN
Gilder Lehrman Collection #: GLC01571 Author/Creator: Lincoln, Abraham (1809-1865) Place Written: Washington Type: Letter signed Date: 19 June 1863 Pagination: 3 p. 35 x 22 cm
Summary of Content: Signed as President, insisting that Louisiana will not be allowed to have an election until the new state constitution abolishes slavery. Demonstrates the hardening of Lincoln's attitude towards slavery. Basler, Roy P. The Collected Works Of Abraham Lincoln. (New Brunswick, NJ: Rutgers University Press, 1953), Vol. VI 1862 - 1863, p. 287 - 289.
Full Transcript: Executive Mansion
Washington, June 19, 1863.
Messrs. E. E. Malhiot,
Bradish Johnson; &
Thomas Cottman,
Gentlemen:
Your letter which follows has been received and considered:
"To His Excellency
Abraham Lincoln,
President of the ...United States,
The undersigned, a committee appointed by the Planters of the State of Louisiana, respectfully represent, that they have been delegated to seek of the General Government a full recognition of all the rights of the State as they existed previous to the passage of an act of secession, upon the principle of the existence of the State Constitution unimpaired, and no legal act having transpired that could in any way [2] deprive them of the advantages conferred by that Constitution. Under this Constitution the State wishes to return to its full allegiance, in the enjoyment of all rights and privileges exercised by the other States under the Federal Constitution. With the view of accomplishing the desired object, we farther request that your Excellency will as Commander-in-Chief of the Army of the United States direct the Military Governor of Louisiana to order an election in conformity with the Constitution and laws of the State, on the first Monday of November next, for all State and Federal officers.
With high consideration and respect we have the honor to subscribe ourselves,
Your Obt Servts.
(signed) E. E. Malhiot
Bradish Johnson
Thos. Cottman."
Since receiving the letter, reliable [3] information has reached me that a respectable portion of the Louisiana people desire to amend their State Constitution, and contemplate holding a Convention for that object. This fact alone, as it seems to me, is a sufficient reason why the general government should not give the committal you seek, to the existing State Constitution. I may add that while I do not perceive how such committal could facilitate our military operations in Louisiana, I really apprehend it might be so used as to embarrass them.
As to an election to be held next November, there is abundant time, without any order, or proclamation from me just now. The people of Louisiana shall not lack an opportunity of a fair election for both Federal and State officers, by want of anything within my power to give them.
Your obt. Servt.
A. Lincoln.

[4]
Communication
of
A. Lincoln


















See More
People:
Historical Era: Civil War and Reconstruction, 1861-1877
Subjects: State ConstitutionElectionPresidentCivil WarMilitary HistorySlaveryAfrican American HistoryMilitary LawAbolition
Sub Era: The American Civil War