Hemans, Nancy A. (b. 1843) to Alexander Shiras and Frances B. Shiras
High-resolution images are available to schools and libraries via subscription to American History, 1493-1943. Check to see if your school or library already has a subscription. Or click here for more information. You may also request a pdf of the image from us here.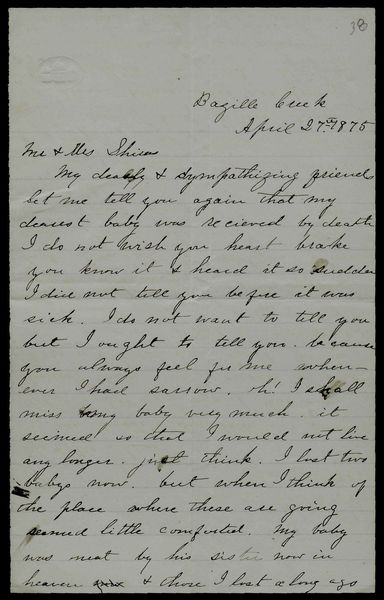 Summary of Content: Discusses the loss of Mary, her child, and takes solace in the idea that Mary will be with relatives in heaven. Mentions prayers and affirms her fidelity to God's will.
Full Transcript: Quotes

"let me tell you again that my dearest baby was received by death…I do not want to tell you but I ought to tell you because you always ...feel for me whenever I had sorrow. oh! I shall miss my baby very much. it seemed so that I would not live any longer. just think. I lost two babys now. but when I think of the place where these are going seemed little comforted. My baby was meat by his sister now in heaven & those lost a long ago my father & mother. they all meat my baby with joy & wish I was there too. I am thinking a hymn it says
Let me go where saints are going
To the manssion of the blest
Let me go where my redeemer
Has prepared his people rest
today I would say. let me go. but I will wait patiently when God told me to go. then I remember this prayer But not my will. but thine be done what a precious prayer is this. Our Saviour said this prayer. there is another prayer. (Thy will be done.)
Baby died yesterday…funeral will be this afternoon" [signed] Your poor Nancy
See More
People: Shiras, Frances B., b. 1814
Hemans, Nancy A., b. 1843
Shiras, Alexander, 1813-1894

Historical Era: Civil War and Reconstruction, 1861-1877
Subjects: ReligionAmerican WestWomen's HistoryChildren and FamilyAmerican Indian HistoryDeathChristianity
Sub Era: Reconstruction