Knox, Henry (1750-1806) to Lucy Knox
High-resolution images are available to schools and libraries via subscription to American History, 1493-1943. Check to see if your school or library already has a subscription. Or click here for more information. You may also order a pdf of the image from us here.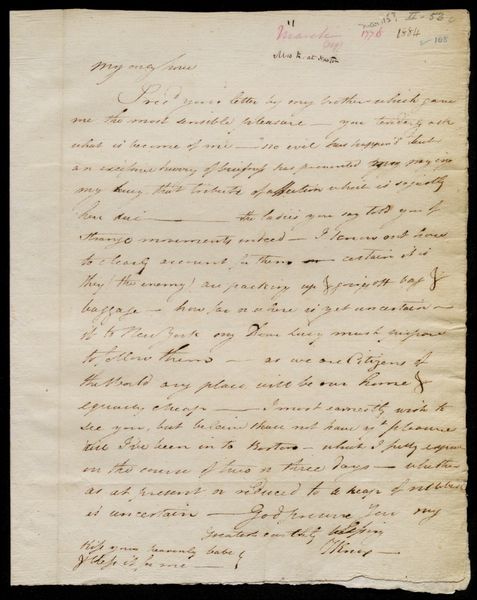 A high-resolution version of this object is available for registered users. LOG IN
Gilder Lehrman Collection #: GLC02437.00264 Author/Creator: Knox, Henry (1750-1806) Place Written: Massachusetts Type: Autograph letter signed Date: circa 5-17 March 1776 Pagination: 1 p. : address ; 28.4 x 22.5 cm.
Responds affectionately to a letter from Lucy asking what has become of him. Answers that he has not written because of how busy he has been (during the siege of Boston). Comments that the British are packing up and leaving Boston, and Knox expects to be in the town in 2-3 days, at which time he will also be able to visit her. He is uncertain where the British are going and in what state they will have left Boston, but states that "to New York my Dear Lucy [we] must prepare to follow them. As we are Citizens of the World any place will be our home & equally cheap." Copy.
[draft]
My only Love
I recd your letter by my brother which gave me the most sensible pleasure - you tenderly ask what is become of me - "no evil has happen'd" but an excessive hurry of business has prevented my paying my Lucy that tribute of affection which is so justly her due - the ladies you say told you of strange movements indeed - I know not how to clearly account for them - certain it is they (the enemy) are packing up & going off bag & baggage - how far or where is yet uncertain - if to New York my Dear Lucy must prepare to follow them - as we are Citizens of the World any place will be our home & equally cheap - I most earnestly wish to see you, but beleive shall not have ye pleasure 'till I've been in to Boston - which I fully expect in the course of two or three days - whether as at present or reduced to a heap of rubbish is uncertain - God preserve You my Greatest earthly blessing
HKnox-
Kiss your heavenly babe
& bless it for me-
[address leaf]
To
Mrs. Knox
at
Newton
Favord by [ ? ]
[docket]
1776