Knox, Henry (1750-1806) to Lucy Knox
High-resolution images are available to schools and libraries via subscription to American History, 1493-1943. Check to see if your school or library already has a subscription. Or click here for more information. You may also order a pdf of the image from us here.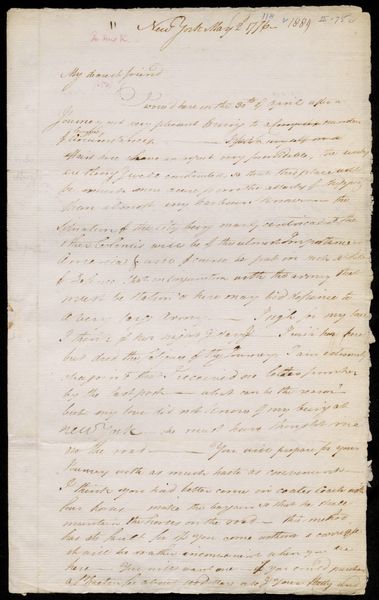 A high-resolution version of this object is available for registered users. LOG IN
Gilder Lehrman Collection #: GLC02437.00283 Author/Creator: Knox, Henry (1750-1806) Place Written: New York, New York Type: Autograph letter signed Date: 2 May 1776 Pagination: 2p.+addr. + docket. 33.4 cm. x 20.1 cm.
Summary of Content: Mentions having a difficult journey to New York. Discusses the strong military defenses in the city and New York's strategic importance to the war effort. Instructs her to prepare for her journey from Boston to New York, advising her to travel in "coates coach with four horses," "sell Romeo," make sure William Knox comes along as her guard, bring linens, and be economical. Comments on availability of houses but expresses uncertainty about where to obtain furniture. Docket is in Lucy Knox's hand.
Full Transcript: [draft]
2 May 1776, New York

My dearest friend
I arriv'd here on the 30th of April after a Journey not very pleasant owing to a [struck: Complex] number of [inserted: complex] ...circumstances. - I [struck: find myself] Affairs here have an aspect very formidable, the works are strong & well constructed, so that this place will be much more secure from the attacks of shipping than almost any harbour I know - the Situation of the City being nearly centrical to the other Colonies will be of the utmost importance to America & will of course be first in such a state of Defense that an injunction with the army that must be station'd here may bid defiance to a very large Army - I sigh for my love I think of her night & day & - I wish her here but dread the fatigues of the Journey. I am extremely chagrin'd that I received no letters from her by the last post - What can be the reason? but my love did not know I am being at New York - she must have thought me on the road - You will prepare for your Journey with as much haste as convenient - I think you had better come in [coates] coach with four horses, - make the bargain so that he shall maintain the horses on the road - this method has its fault for if you come without a carriage it will be rather inconvenient when you are here. You will want one - if you could purchase a Phaeton for about 100 dollars also & your Betty and [2] babe and all come in that it could remdy that affair but that cannot be - Sell Romeo - he never will be of any service to you - I really feell for the difficulties you will have to surmount Billey must come with you as a Guard - I need not even hint to you to be as much an economist as possible - for my love thinks much more of that matter than I do - I know not what we shall do for house furniture - as for houses there are plenty & good ones too - write me immediately on the receipt of this Letter particularly when you set out & how - Don't forget to bring a proper proportion of house Linens with you, Spoons &c -
I am my dearest love Your
unalterably Harry Knox
[address leaf]
Mrs Lucy Knox
Boston
[illegible]

[docket]
Genl to Mrs Knox
May 2d 1776See More
People: Knox, Henry, 1750-1806
Knox, Lucy Flucker, 1756-1824
Knox, William, 1756-1795

Historical Era: American Revolution, 1763-1783
Subjects: Revolutionary WarMilitary HistoryTravelContinental ArmyWomen's HistoryTransportationHome FurnishingsFinance
Sub Era: The War for Independence