Knox, Henry (1750-1806) [Paper calling for "a well regulated and numerous body of artillery"]
High-resolution images are available to schools and libraries via subscription to American History, 1493-1943. Check to see if your school or library already has a subscription. Or click here for more information. You may also order a pdf of the image from us here.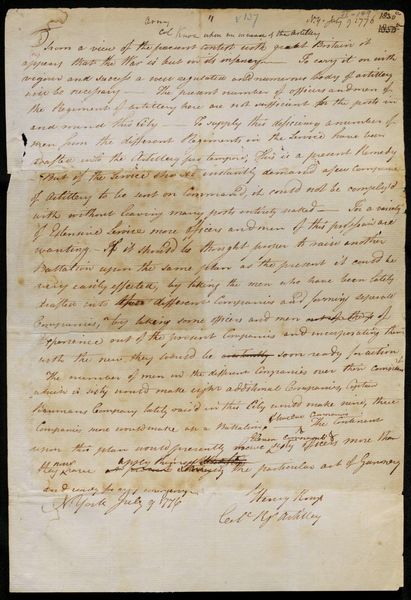 A high-resolution version of this object is available for registered users. LOG IN
Gilder Lehrman Collection #: GLC02437.00366 Author/Creator: Knox, Henry (1750-1806) Place Written: New York, New York Type: Autograph document signed Date: 9 July 1776 Pagination: 1 p. : docket ; 28.5 x 19.1 cm.
Explains that the war is in its infancy and its success will require "a well regulated and numerous body of artillery." Argues that the present force is insufficient and that the current system of temporarily drafting men into the artillery leaves the Continental Army vulnerable. Outlines a plan for creating new companies.
[draft] [partial]
N.Y. July 9 1776
From a view of the present contest with great Britain it appears that the War is but in its infancy- To carry it on with vigour and success a well regulated and numerous body of artillery will be necessary- The present number of officers and men of the Regiment of artillery here are not sufficient for the posts in and round this City- To supply this deficiency a number of men from the different Regiments in the Service have been drafted into the Artillery pro tempore; This is a present Remedy But if the Service should instantly demand a few Companies of Artillery to be sent on Command, it could not be comply'd with without leaving many posts entirely naked- For a variety of Extensive Service more officers and man of this profession are wanting- If it should be thought proper to raise another Battalion upon the same plan as the present it could be very easily effected...