Jackson, Henry (1747-1809) to Henry Knox
High-resolution images are available to schools and libraries via subscription to American History, 1493-1943. Check to see if your school or library already has a subscription. Or click here for more information. You may also order a pdf of the image from us here.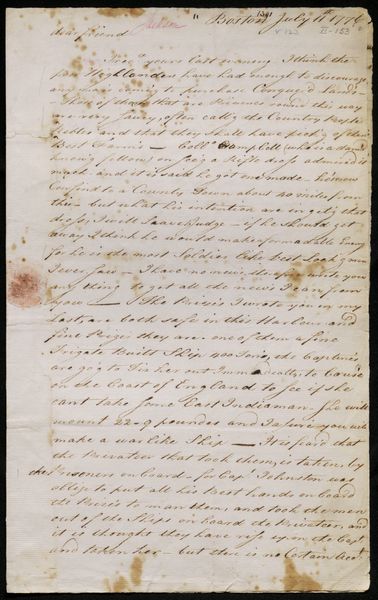 A high-resolution version of this object is available for registered users. LOG IN
Gilder Lehrman Collection #: GLC02437.00370 Author/Creator: Jackson, Henry (1747-1809) Place Written: Boston, Massachusetts Type: Autograph letter signed Date: 11 July 1776 Pagination: 2 p. : address ; 33.8 x 20.8 cm.
Summary of Content: Discusses Scottish (Highlanders) attempts to "purchase Conquer'd Lands." Describes Scottish prisoners as saucy because they call the country people rebels and say they will later be able to sieze their farms. Explains news that Colonel Archibald Campbell, a British officer from Scotland who was then a prisoner, suspiciously purchased a rifle dress. Jackson holds Campbell in a high esteem. Comments on the ships whose recent capture was decribed in an earlier letter (see GLC02437.00343). Says that one of the ships will be refitted and sailed to England "to see if she cant take some East Indiaman." Reports fears that the privateer that took those ships, commanded by Captain Johnston, has been siezed by the British prisoners on board. Comments on smallpox innoculations and the local weather. Asks Knox to keep him abreast of the news, he thinks Knox's "behavi'r now will determine the fate of America."
Full Transcript: [draft]
Boston July 11th 1776

dear friend
I rec.d yours last evening- I think the poor Highlanders have had enough to discourage any more's come'g to purchase Conquer'd Land's- Those ...of them that are Prisoners round this way are very Saucy, often call'g the Country People Rebles and that they shall have pick'g of their Best Farm's- Collo Campbell (who is a dam'd know'g fellow) on sec'g a Rifle dress admired it much and it is said he got one made- he's now Confined to a County Town about 40 miles from this- but what his intention are in get'g that dress, I will Leave to Judge- if he should get away I think he would make a formadable [sic] Enemy for he is the most Soldier like best Look'g man I ever saw- I have no new's therefore write you any thing to get all the new's I can from you- The Prize's I wrote you in my Last, are both safe in this Harbour, and fine Prizes they are. one of them a fine Frigate Built Ship 400 Ton's, the [Captine's] are go'g to Fix her out Immedeatly, [sic] to Cruse on the Coast of England to see if she cant take some East Indiaman- She will mount 22-9 pounders and I assure you will make a warlike Ship- It is fear'd that the Privateer that took them, is taken, by the Prisoners on board- for Capt Johnston was oblige to put all his Best hands on board the Prize's to man them, and took the men out of the Ships on board the Privateer, and it is thought they have rise upon the Capt and taken her- but there is no Certain Acot: [2] It is suppos'd there 5 or 6 Thousand person[strikeout] are Inoculated in this Town, there is none [broke] out with yet number's begin to Complain- Hary we have had a most melancolly time here not one drop of rain for 5 week's till last week when we had a very [inserted: fine] rain for 4 or 5 hour's & we have several showers since- verything [was] burnt up- Hay at 8/L [illegible] pr and everything in proportion a Copper for a Turnip-
- pray write me all the New's and every particular- who behav'd well & who did not- [struck: for] I think you behave'r now will determine the fate of Ameraca [sic]- may God cover your head in the [struck: day of] Battle in the Sincere Pray of
your friend
Henry Jackson
direct to [Plain]
H Jackson
I intend to write Lucy
to Colo Henry Knox
New york

[address]
1/6 To 3..8
Colonel Henry Knox
In
New York
pr postSee More
People: Jackson, Henry, 1747-1809
Knox, Henry, 1750-1806
Campbell, Archibald, 1739-1791

Historical Era: American Revolution, 1763-1783
Subjects: NavyPrivateeringPrisoner of WarSmallpoxDiseaseRevolutionary WarMilitary HistoryGlobal History and US Foreign PolicyGlobal History and US Foreign PolicyPrisoner of WarMilitary UniformsHealth and Medical
Sub Era: The War for Independence