Paine, Robert Treat (1731-1814) to Henry Knox
High-resolution images are available to schools and libraries via subscription to American History, 1493-1943. Check to see if your school or library already has a subscription. Or click here for more information. You may also order a pdf of the image from us here.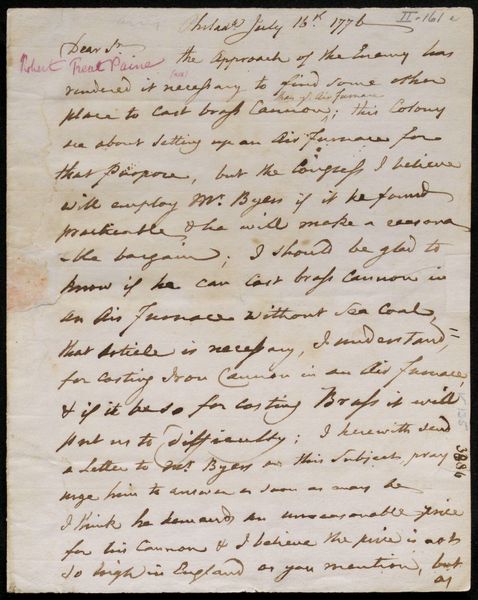 A high-resolution version of this object is available for registered users. LOG IN
Gilder Lehrman Collection #: GLC02437.00379 Author/Creator: Paine, Robert Treat (1731-1814) Place Written: Philadelphia, Pennsylvania Type: Autograph letter signed Date: 15 July 1776 Pagination: 2 p. : address : free frank ; 20.2 x 16 cm.
Informs Knox that the British approach necessitates a change in location for casting brass cannons and indicates that an air furnace will be set up in Pennsylvania. Congress will still offer to employ Mr. Byers for the job if it can be done at a reasonable cost. Inquires if brass cannons can be cast without sea coal and expresses concerns about the weight of the cannons to be cast. Reports that Congress has written Byers a letter and urges Knox to send it to him and have him reply expeditiously. Mentions that Knox has new visitors and asks him to "treat them in a very polite manner," possibly a sarcastic reference to the British. Paine was a delegate to the Continental Congress from Boston, Massachusetts. Free frank signed by Paine.
Refer to GLC02437.00365 and GLC02437.00506 for related correspondence. Published in Letters of Delegates to Congress: Volume 4 May 16, 1776 - August 15, 1776.
[draft]
Philada July 16th 1776
Dear Sr.
The Approach of the Enemy has rendered it necessary to find some other place to cast brass Cannon [than y] Air Furnace; this Colony are about Setting up an Air [Furnace] for that purpose, but the Congress I believe will employ Mr. Byers if it be found [practicable] and he will make a reasonable bargain; I should be glad to know if he can cast brass cannon in an Air Furnace without Sea Coal that Article is necessary, I understand, for casting Iron Cannon in an Air Furnace and if be so for casting Brass it will put us to [illegible]; I herewith send a Letter Mr. Byers on this Subject, pray urge him to [America] as soon as may be I think he demands are unreasonable since for his Cannon and I believe the price is not so high in England as you mention, but as [2] they are like to cost so much by the pound. I think they should be made as light as [will answer]; now I observe that Mr. Byers; 6 pounders weigh one hundred and an half more than the English ones which is an exceeding great odds, I wish to know whether this is accidental or by design fearing they would not be strong enough if made lighter - but I may not trouble you with these matters now your mind is so engaged to entertain your new visitors, I trust you will treat them in a very polite manner and whatever they may say if the Cookery be sure give them their Bellies full, hoping soon to hear of yr. good Success
I am yr friend and hble Servt
RTPaine
RS. I have wrote Mr.
Byers to come to Philada.
Please to seal his letter
And send it him