Knox, Lucy Flucker (ca. 1756-1824) to William Knox
High-resolution images are available to schools and libraries via subscription to American History, 1493-1943. Check to see if your school or library already has a subscription. Or click here for more information. You may also order a pdf of the image from us here.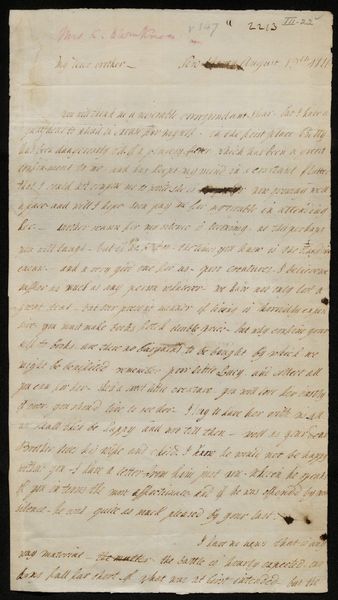 A high-resolution version of this object is available for registered users. LOG IN
Gilder Lehrman Collection #: GLC02437.00422 Author/Creator: Knox, Lucy Flucker (ca. 1756-1824) Place Written: New Haven, Connecticut Type: Autograph letter signed Date: 19 August 1776 Pagination: 2 p. ; 31.6 x 17.1 cm.
Summary of Content: Explains how a friend's illness and the difficult times brought on by the Revolutionary War have delayed her writing. Notes how expensive the war has made living and suggests William expand beyond just selling books. Looks toward the future when they can all live in happiness and reaffirms her husbands affection for his brother. Comments on the impending battle in New York and notes that very wealthy men are among the ranks, describing the effort as "a glorious spirit." Indicates that their are 25,000 British forces. Provides information about various acquaintances. She received the fifty dollars he sent.
Full Transcript: [draft]
New Haven August 19th 1776
My dear brother -
You will think me a miserable correspondent, I fear, but I have a great deal to plead in excuse for myself. ...In the first place Betty has been dangerously ill of a pleuresy-fever which has been a great confinement to me - and has kept my mind in a constant flutter that I could not compose me to write. She is now growing well apace and will I hope soon pay me for my trouble in attending her. Another reason for my silence is oeconomy at this perhaps you will laugh - but if you do, be it so - the times you know is the standing excuse - and very good one for us, poor creatures. I believe we suffer as much as any person whatever - We have not only lost a great deal but our present manner of living is horribly expensive. You must make books fetch double price. but why confine yourself to books - are there no bargains to be bought by which we might be benifited remember poor little Lucy and collect all you can for her. She is a sweet little creature - you will love her vastly if ever you should live to see her. I long to have her with us all. We shall then be happy and not till then. Well as your dear Brother loves his wife and child, I know he would not be happy without you. I have a letter from him just now - wherein he speaks of you in terms the most affectionate - and if he was offend'd by your silence - he was quite as much pleased by your last.
I have no news that is any way material. The battle is hourly expected. Our army fall far short of what was at first intended - but the [2] militia turn out surprisingly. There are several instances of men in the rank whose estates are worth thirty thousand Lawful money. A glorious spirit. May heaven succeed thier endeavours. The enemy are five and twenty thousand - a vast army indeed. The promotion in ours you have doubtless heard of Major Generals Green, Sulivan, Spencer, and Heath - the six Brigadiers - our great men increase fast.

I want to hear how your church goes on whether Mr. Parker has altered his form or shut up his church - one or other he doubtless has. Shall expect a long epistle from you by Mr. Livingston, who I suppose will soon be here. My regards to all friends particularly Mrs. Harriss - lett her know if Sam Pitts has settled with Thayer - and what is the answer. I have stole the time to write this while my darling is asleep - so that you must excuse all incorrectness
from your ever affectionate Sister
Lucy Knox

I received the fifty dollars - am ashamed to this scrawling business - tis most miserable - but I must run to my babySee More
People: Knox, Lucy Flucker, 1756-1824
Knox, William, 1756-1795

Historical Era: American Revolution, 1763-1783
Subjects: Battle of Long Island (Brooklyn, Brooklyn Heights)Health and MedicalWomen's HistoryRevolutionary WarMilitary HistoryEconomicsFinanceBook SellingChildren and FamilyBattlePatriotismGlobal History and US Foreign PolicyGlobal History and US Foreign Policy
Sub Era: The War for Independence