Furnivall, James (fl. 1776-1777) to Henry Knox
High-resolution images are available to schools and libraries via subscription to American History, 1493-1943. Check to see if your school or library already has a subscription. Or click here for more information. You may also order a pdf of the image from us here.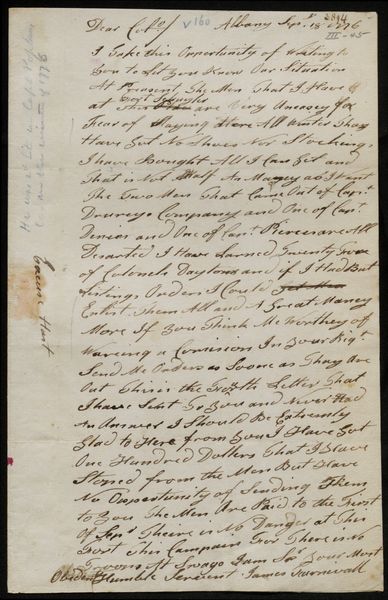 A high-resolution version of this object is available for registered users. LOG IN
Gilder Lehrman Collection #: GLC02437.00446 Author/Creator: Furnivall, James (fl. 1776-1777) Place Written: Albany, New York Type: Autograph letter signed Date: 18 September 1776 Pagination: 1 p. : address ; 31.3 x 19.9 cm.
Informs Knox of the situation at Fort Schuyler. The men are afraid of remaining there for the winter because they have few shoes or stockings. Discusses enlistment and pay. Furnivall was a lieutenant in Knox's artillery regiment.
[draft]
Albany Seper. 18 1776
Dear Colo
I Take this Opportunity of Writing to you to Let you Know Our Situation At Present The Men That I Have at Fort Schuyler are Very Uneasey for Fear of Staying Here All Winter Thay Have Got No Shoes Nor Stockings I have Bought All I Can Get and That s Not Half An [illegible] as I Want The Two Men That Came out of Capt. [Denies] and One of Capt. [Pieresance] All [Deserted] I Have [illegible] Twenty Five of Colonel Daytons and if I Had But Listings Orders I Could Enlist Them All and A Great Many More If You Think Me Worthey of Waveing a Comision In your Rigt. Send Me Orders as Soone as Thay are Out This is the Fourth Letter that I have Sent To you and Never Had An Answer I Should be Extremly Glad to here from you I Have Got One Hundred Dollers that I Have Stoped from the Man But Have No Opportunity of Sending Them to you The Men Are Paid to the First of Sept There is No Danger at This Fort This Campain For There is No Troops At [illegible] I am Sr your Most Obedent Humble Servent James Furnivall